Bilingual law journal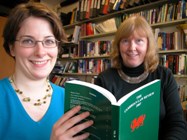 Ann Sherlock (right), Director of the Centre for Welsh Legal Affairs, Department of Law and Criminology and Dr Catrin Fflur Huws, Lecturer at the Department of Law and Criminology.
Friday 8 February 2008
The Aberystwyth University publishes bilingual law journal

The
Cambrian Law Review
, an academic journal edited by the Department of Law and Criminology at Aberystwyth University has published, for the first time in its 35 year history, a volume of bilingual papers.
It is believed that this volume is the first legal journal to be published almost entirely in both Welsh and English. Accordingly it is an extremely valuable resource both for teaching and academic research.
The papers in this volume had their origins in a conference organised by the Centre for Welsh Legal Affairs in November 2006 entitled 'Minority languages and the Law.' The aim in putting together that conference, and then in compiling this volume, has been to present a range of different perspectives on the position of minority languages and the factors that affect their use in society.
The volume covers contributions from a number of jurisdictions – Scotland, Ireland and Wales – and from contributors with different experiences and perspectives.
While the papers cover a number of jurisdictions and are written by individuals with different practical and academic experiences of law and language, the common themes are evident. Minority languages often have a history of being excluded from the domains of law and government, with the result that difficulties are encountered when trying to develop legal terminology, and there is a lack of confidence in using the minority language in formal situations.
As the oldest law department in Wales, the department of Law and Criminology has a significant part to play in developing the status of the Welsh language as a language of the law. It must not be forgotten that many of the individuals that had such a crucial role in shaping the legal status of the Welsh language during the twentieth century are either graduates or former lecturers from Aberystwyth's law department.
"We aim to build on this tradition. The collaboration between the
Cambrian Law Review
and the Centre for Welsh Legal Affairs to produce this unique volume is an important aspect of developing legal discourse through the medium of Welsh," Ann Sherlock, Director of the Centre for Welsh Legal Affairs said.
"Another important aspect is the department's commitment to developing Welsh-medium teaching and learning opportunities. As such we are very fortunate to have been awarded funding by the National Assembly for Wales via the Welsh Medium Teaching Development Centre to offer a postgraduate scholarship in order to develop Welsh medium teaching, and also that we have been given permission by the Incorporated Council of Law Reporting and by Lexis Nexis Butterworths to translate key precedents into the Welsh language," she added.
For further details about the bilingual volume of the Cambrian Law Review, see
http://www.aber.ac.uk/clr/
.