Media partnership launched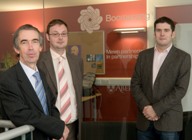 Left to Right. Professor Noel Lloyd, Professor Adrian Kear and Mr Eurig Davies of Boomerang+ at the launch
Talented young film makers and aspiring television producers will be able to showcase their work on a new web video portal following the announcement of a major new strategic partnership between the University and one of Wales's leading independent television production companies, Boomerang+.
Sesh TV, a project supported by S4C, is being developed in the Department of Theatre, Film and Television Studies with Cube Interactive, and promises to have a major impact on the sector.  It is the first in a series of innovations to come out of this major joint initiative.
Professor Noel Lloyd, Vice-Chancellor of Aberystwyth University, and Mr Huw Eurig Davies, Chief Executive of Boomerang+, formally launch the three year strategic partnership on Tuesday 28 October at the University's Department of Theatre, Film and Television Studies.
Some of the important features of the partnership include office facilities and a full-time researcher at the University to explore further opportunities for knowledge transfer and enterprise activity and to co-ordinate the development of Sesh TV. Work experience opportunities for students also form an important part of the agreement.
Professor Noel Lloyd has welcomed the development.
"This is a significant opportunity for the University to work with a major player in the broadcasting industry in Wales in the development of innovative and exciting new content and forms of television production.  This underlines the importance of the University's work in the creative and cultural sector."
Professor Adrian Kear, Head of the Department of Theatre, Film and Television Studies said:
"This partnership provides a great opportunity to develop ways of sharing insights, creating new knowledge and fostering innovation.  This will bring benefits to students, research staff, and film and television producers. Increased interaction between them is supported in the creative and intellectual environment of the Department." 
The Cardiff based Boomerang group has built a nation-wide reputation for entertainment, extreme sports, lifestyle, music, youth and children's content. 
After successful admission to the London Stock Market on AIM in November 2007 it received significant re-commissions from Channel 4 and S4C particularly in drama, extreme sports and lifestyle and started production in October 2007 of "Planed Plant", the children's continuity links for S4C worth over £4 million over a two-year period in open tender against strong competition.
Boomerang is ranked in the top five independent television production companies, by revenue, in the Nations and Regions according to the Broadcast Survey (Nations and Regions) 2007.
Huw Eurig Davies, Group Chief Executive, said:
"It is a great delight for us to be part of this partnership.  As a group we are continuously investing in staff, production and post-production facilities, digital media opportunities and programme development and this partnership underlines our commitment to developing talent in Wales." 
"At this time of change in the nature of public service broadcasting in the UK and the world, partnerships like this will help Wales to meet the challenges of the digital future", he added.
Boomerang's presence in the Department, alongside its offices in Aberaeron will also provide a much needed boost to the media in Mid-Wales.