Aberystwyth could lead the world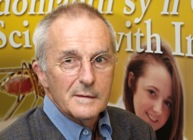 Professor Steve Jones
One of the world's leading biologists has said that new developments at Aberystwyth University place it in an ideal position to lead the world in environmental matters.
"Aberystwyth is well placed to become a world-leading Eco-University," said geneticist, Professor Steve Jones, on a visit to the University.
He is one of a team of internationally recognised scientists, industrialists, farmers and educators who have been appointed to the Advisory Board of Aberystwyth's Institute of Biological, Environmental and Rural Sciences (IBERS).
"I have been immensely impressed by the potential of the new investment and the pioneering new developments taking place at IBERS," he said.
"This Institute could make a major difference to some of the great issues facing the world today – including developing new crops that will offer the hope of greater food, water and energy security."
Professor Wayne Powell, Director of IBERS said
"We are privileged to have attracted people of this calibre to play an active part in the strategic direction of IBERS. Their insight and experience is already proving to be invaluable".
IBERS is in the midst of a multi million pound investment to build on a 90 year tradition of pioneering research. With more than 300 scientists and support staff, it is the largest research centre of its kind in the UK.
Local links

Born in Aberystwyth, and having spent much of his childhood in the area, Steve Jones is now head of the Department of Genetics, Evolution and Environment at University College London and carries out his research at the world famous Galton Laboratories.
As well as his academic work, he is renowned for his ability to communicate complex and important scientific ideas through a number of popular television series and award-winning books.
World-class Board

The Advisory Board, which met for the first time at Aberystwyth this week, includes an impressive list of experts, all leading figures in their respective fields.
Each will have a special contribution to make to the work of IBERS, whose mission is to carry out world class research in the fields of agriculture and the environment in order to offer practical solutions that will benefit farmers, the economy, communities and the world's population.
Another member of the Board was this week celebrating a special association with Aberystwyth University. Professor Russell L Jones from the Department of Plant and Microbial Biology at the University of California, Berkeley, met his wife at Aber exactly 50 years ago.
Members of External Advisory Board:

Sir Don Curry CBE, Chairman, NFU Mutual Insurance Company
Dr Roger Freedman, Mediant Cambridge Ltd, Cambridge
Professor Russell L Jones, Department of Plant and Microbial Biology, University of California Berkeley
Professor J Steve Jones, Professor of Genetics & Head of Department of Genetics, Evolution and Environment, University College London
Mr John Lloyd Jones OBE, Chairman, Countryside Council for Wales
Dr Barbara Mazur, Vice-President Trait Technologies at Pioneer Hi-Bred Inc., Dupont Industries
Dr Jim Peacock FAAS FRS FAATSE COA, CSIRO Fellow