Digital art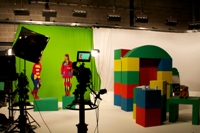 Sbridiri being filmed at the University's new digital studio facilities.
Ten talented film and TV students from Aberystwyth University had the experience of working on a professional TV shoot on their doorstep, as Boomerang made use of the University's new digital studio facilities for its new children's TV show Sbridiri.
The final year students who will be scouting for media jobs in the coming months had already come into contact with the company through production research modules in the Department.
Marged Rees, said "The opportunity to have work experience in the industry was incredible. We were able see how a professional shoot operates and become part of the team. It was an experience that will help us a great deal in the future."
Sbridiri is a brand new children's art programme aimed at young children. The stars of this show are Iwan John, who plays the character Twm Tisian, and his co-presenter Lisa Marged. It will be broadcast for the first time on S4C's under it's Cyw brand today, Thursday the 12th May.
This is the first studio-based series to be produced in Aberystwyth for over a decade and it was a golden opportunity to put the student's skills to work as they shadowed sound, camera, production and post-production departments.
Huw Eurig Davies, chief executive of Boomerang+, was enthusiastic about the scheme: "It's an excellent way of spotting the talent that's coming through into the industry. We were very keen to work in Aberystwyth, and shooting the series in the studio at the film and TV department builds upon our successful partnership with the University."
The development was also welcomed by Dr. Jamie Medhurst, Acting Head of the Department of Theatre, Film and Television Studies: "this works experience scheme allows our students to build upon their skills, in an environment that is totally professional yet familiar to them, preparing them well for the workplace. We look forward to developing further opportunities such as this with Boomerang and other companies."
AU10811