Masters in Connectivity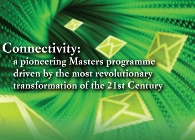 Masters in Connectivity
This week Aberystwyth University launches a pioneering new postgraduate course driven by the most transformative revolution of the 21st Century.

The new one year Masters in Connectivity (see Connectivity) provides a unique opportunity to study the ways in which the combined force of the internet, digital technology and multiple media and communications platforms are radically shaping people's lives, communities and the architecture of economies, societies and cultures around the world.
The new programme is being led by the Department of International Politics and draws on areas of expertise in eight academic departments: Art, Computer Science, Information Studies, International Politics, Law and Criminology, Management and Business, Psychology, and Theatre Film and Television Studies.
Professor Michael Foley, Head of the Department of International Politics said: "As the world's first Masters Degree scheme of its kind, this unique programme provides students with the opportunity to study in a truly multi-disciplinary environment.
"It will allow them to examine not only the impact of these technologies and the ways they are used on a range of disciplines across the arts, sciences and social sciences, but also the ways that different strands cross and interact with each other within and between the social, cultural, political and economic realms.
"Involving a range of departments will enable students to explore implications of this 'Connectivity' phenomenon from different disciplinary perspectives, while the core module for the degree scheme will provide a more holistic approach to understanding the impact of web-based technology and media."
Professor April McMahon, Vice-Chancellor of Aberystwyth University said: "This Masters programme is a key component of a major new initiative in interdisciplinary postgraduate study by Aberystwyth University. It will create a high-profile hub for the study of 'Connectivity', combining teaching, research and dissemination in the field, as we establish ourselves as a focal point of commercial and public outreach for exploring the impact of the 'information revolution' on modern life."
The new course, which will run from September 2012, was launched by Professor April McMahon at a London reception hosted by the University's Department of International Politics on Tuesday 22 November.
Interdisciplinary Expertise and Programme Contribution
Department of Computer Science http://www.aber.ac.uk/en/cs/
Enables students to understand the technology which makes the 'Connectivity' phenomenon possible.
Department of Information Studies http://www.aber.ac.uk/en/dis/
Provides a solid grounding on the implications of the internet for data management and the transfer of information.
Department of International Politics http://www.aber.ac.uk/en/interpol/
Enables students to explore issues of cyber security and cyber warfare and the impact of connectivity on domestic and international politics.
Department of Law and Criminology http://www.aber.ac.uk/en/law-criminology/
Provides expertise in the impact of the internet on legal issues.
Department of Psychology http://www.aber.ac.uk/en/psychology/
Offers insights into the ways that information and communications technology affects the development of human understanding and development.
Department of Theatre, Film and Television Studies http://www.aber.ac.uk/en/tfts/
Focuses on the ways in which web-based technologies and media influence culture and make possible new forms of performance.
School of Art http://www.aber.ac.uk/en/art/
Focuses on the ways in which web-based technologies and media influence culture and make possible new forms of art.
School of Management and Business http://www.aber.ac.uk/en/smb/
Focuses on the implications and opportunities of 'Connectivity' for business and enterprise.
AU28211