Celebrating Fairtrade Fortnight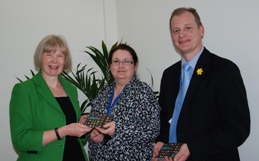 Vice-Chancellor Professor April McMahon, Angela Jones, Hospitality General Manager a Jeremy Mabbutt, Head of Hospitality Services
The University and Students' Union are celebrating Fair Trade Fortnight) with a range of special promotions.
Aberystwyth University (including the Students' Union) was awarded Fairtrade status by the Fairtrade Foundation in 2009, and is committed to supporting, promoting and using Fairtrade goods.
Fairtrade Fortnight sets aside two weeks every year in which the principles and products of fair trade are promoted and the links between consumers and producers are highlighted. This year's event, which has the theme of Take a Step for Fairtrade runs until March 10.
The Fairtrade Foundation is calling on the public to 'Go Further for Fairtrade in 2013' to look after the food we love and the people who grow it. Choosing Fairtrade is one way to help secure a better deal for millions of people in developing countries.
Jeremy Mabbutt, Head of Hospitality Services at the University explains: "We have a comprehensive sustainability and ethical purchasing food policy which puts environmental, health and sustainability considerations at the core of any purchasing decisions made. Through our catering outlets and delivered catering services, we make Fairtrade products readily available to staff, students, conference organisers and delegates. Our Fairtrade provision is important in helping to raise awareness amongst our students and staff and visitors to the University of the need to ensure a better future for producers in the developing world".
Further details http://www.aber.ac.uk/en/hospitality/news-events/