Native Welsh ponies unique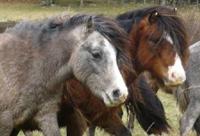 Carneddau wild ponies
Researchers at Aberystwyth University have established that the wild ponies grazing the Carneddau Mountains, North Wales are a genetically unique population, which should be conserved to safeguard their existence.
Preserving the genetic resource provided by the Carneddau ponies is particularly crucial since recent snow storms led to the death of many of these animals, dramatically reducing their numbers.
The study, the first into the genetic characteristics of the wild ponies, whose habitat in northern Snowdonia reaches heights of over 600 metres, was undertaken by scientists at the Institute of Biological, Environmental and Rural Sciences (IBERS) at Aberystwyth University using samples collected at the annual round-up of ponies above the village of Llanfairfechan.
The aim was to establish to what extent the Carneddau ponies are genetically related to other UK native breeds and particularly whether they relatively recently separated from the existing Welsh Section A pony. The Welsh Section A pony is the registered breed which is geographically nearest and similar in appearance to the Carneddau pony.
Hair samples were collected from Welsh Section A, Welsh Section D, Connemara and Highland ponies and from Carneddau ponies during their autumn round up. DNA was extracted from the hair and tested by the scientists at Aberystwyth University.
To ensure robustness, genetic diversity was comprehensively analysed using three modern techniques: microsatellite genotyping; single nucleotide polymorphism genotyping and mitochondrial DNA sequencing.
Clare Winton, an IBERS post-graduate student who performed the study as part of her Ph.D thesis revealed: "Although the Carneddau ponies have shared ancestry with the Welsh Section A pony, they exhibit genetic signatures such as unique mutations while maintaining high genetic diversity, demonstrating that the population has been isolated for at least several hundred years. Therefore, the Carneddau ponies are a genetically distinct population."
Historically in Tudor times, King Henry VIII ordered feral native ponies to be destroyed because they could not carry a knight in full armour, however thanks to the endeavours of generations of farmers in these most testing conditions and because the horses' breeding has never been intensively manipulated, their existence has been safeguarded.
"The existence of the Carneddau ponies is threatened by financial pressure such as costs associated with the legal requirement to passport and microchip every horse in the UK, " added Dr Nash, Lecturer in Equine and Animal Science and one of the IBERS researchers.
"Populations deemed 'rare' receive special exemption from the need for passports and microchips whilst remaining free-living."
The Carneddau ponies play a vital role within the mountain ecology of the Snowdonia National Park, as they are involved in a grazing scheme maintaining preferred habitat for the endangered bird, the red-billed chough.
AU10813