Linguistic diversity workshop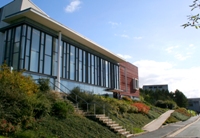 This week (Wednesday 16 – Friday 18 October), Aberystwyth University is hosting a specialist three day workshop on linguistic diversity.
The workshops form part of the LEARNMe project (Language and Education Addressed through Research and Networking, Mercator) and will look at theoretical frameworks that underpin current research into linguistic diversity, the implementation and practices in the field of education as well as how to target policy-makers as its most important stakeholder constituency.
All three workshops will conclude in the production of position papers which will in turn form the basis of a white paper which will be presented at the final conference in Budapest in September 2015.
Dr Elin Haf Gruffydd Jones is Director of the Mercator Institute, a research centre at the Department of Theatre, Film and Television Studies at Aberystwyth University.
She said; "Linguistic diversity has been repeatedly identified as a fundamental part of the cultural heritage of Europe. But there are several ways of defining and implementing this concept. All languages, including minoritised languages such as Welsh should be supported. These languages hold within them so much experience on how meaningful linguistic diversity can be achieved."
The Mercator Institute at Aberystwyth University hosts a number of projects including LEARNMe and specialises in minority languages, creative and literary translation, media, publishing and culture, with much of the activity based around European and world-wide networks.
LEARNMe is an EU funded project connecting multilingual communities across Europe and aims to identify and devise different strategic tools in order to support the processes of revisiting, reanalysing and redefining the conceptual formulation of the current linguistic arrangements.
As well as Aberystwyth University, representatives from the following institutions are attending the workshop: University of Stockholm; Hungarian Academy of Sciences; University of Namur, Belgium; University of Helsinki; University of the Basque Country Bilbao; University of Freiburg; Dublin City University, Ireland; Universitat de Barcelona; Fryske Akademy, Netherlands; CIEMEN Foundation, Barcelona; University of Amsterdam; University of Groningen.
au38613