Alumni success at Eisteddfod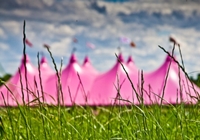 The pink pavilion at the Eisteddfod maes
Congratulations to two Aber alumni on their literary success in the National Eisteddfod this year.
Lleucu Roberts scooped the top two prizes for writers, namely the Daniel Owen Memorial Prize for the novel Rhwng Edafedd (Between Threads) and the Prose Medal for the book Saith Oes Efa (The Seven Lives of Eve).
Speaking on behalf of her fellow adjudicators, Catrin Beard said that the author "treats language consistenly excellently, and the secret is not to push the art in your face – the pleasure is to return time after time and find something new. Saith Oes Efa is a book which deserves its place on any bookshelf."
Lleucu worked as an editor for Y Lolfa before becoming a writer and scriptwriter for TV and radio. She is now a full time writer and translator, and has published six novels for adults and five for children and young adults. She has won the Tir na n-Og-twice.
Acclaimed poet Ceri Wyn Jones won the National Eisteddfod Chair this year.
The title of this year's competition was 'Lloches' (Refuge), and speaking on behalf of his fellow judges from the Pavilion stage, Llion Jones said, "Here is a poet whose energetic phraseology manages to vary his pitch in different situations. If the outlook portrayed in the other attempts are rather weary and flat, this is a poet who explores many paths in order to reach his subject.
"[He] raises difficult questions it would be much easier to ignore. But as the former boxer Joe Louis once said, we can run and run but we cannot hide".
Ceri is a popular poet. His book, Dauwynebog, reached the shortlist of three for the Llyfr y Flwyddyn (Book of the Year) competition in 2008, and his poems are set works for A Level and degree coursed. He has been the Bardd Plant Cymru (Children's Laureate) and since 2012, he is the Meuryn on the radio series, Y Talwrn.
Dr Rhodri Llwyd Morgan, Deputy Vice-Chancellor said: "I am delighted to congratulate both Lleucu and Ceri Wyn Jones, two graduates of the University, on their success at the National Eisteddfod this year. It is also pleasing to note that both are former pupils of the county's schools - Penweddig in Lleucu's case and Cardigan in Ceri Wyn's case.
 
"Both have achieved "the double" in their own right. Ceri Wyn Jones joins the ranks of those who have won the chair twice. Lleucu has made history, winning both Prose prizes, the Daniel Owen Memorial Prize and the Prose Medal - in the same Eisteddfod.
 
"The Welsh Department and the Department of English and the University are proud of their alumni and shows that Aber fosters creative writing talents of the highest order."
AU33814