University to hold first Green Fayre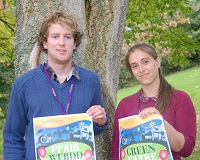 Organisers Heather Crump and Chris Woodfield
Aberystwyth University will host its first ever 'Green Fayre' on Wednesday 29th October.
The Fayre is aimed at staff and students interested in green issues, sustainability, volunteering and the environment and will be hosted in the Students' Union between 10am-4pm. It is one of the first of its kind in Wales.
Organisations such as the Royal Society for the Protection of Birds (RSPB), Ceredigion County Council and Friends of the earth will be in attendance.
Eleven seminars will be held throughout the day on topics such as recycling, sustainability and fair trade with organisers hoping that it will provide an "interactive platform" for those present.
The Fayre's aim is to increase awareness of sustainability issues and underlines Aberystwyth University's commitment to fulfilling its strategic goals of improving waste and water management, and reducing its carbon footprint.
University Environmental Advisor and organiser Heather Crump said; "I thought there was a gap in the existing fayres and this gives us an ideal opportunity to showcase green and sustainable issues, highlight what's going on in the local area and University regarding environmental sustainability."
Fellow organiser Chris Woodfield said; "The Fayre will provide the chance to engage students with sustainability at the University and give people the opportunity to both learn, and try something new."
The hashtag for the event will be #AUGreenFayre
A full list of organisations in attendance and a programme of talks is available below
• Aber Beach Buddies
• Aber Food Coop
• Aberystwyth University Campus Services
• Aberystwyth University Conservation Volunteers
• Aberystwyth University School of Lifelong Learning
• Aberystwyth University Sports Centre
• Aberystwyth University Student Garden
• AU Blackout group
• AU Coast care group
• Beacon
• Biffa
• Cardigan Bay Marine Wildlife Centre
• Centre for Alternative Technology (CAT)
• Ceredigion County Council
• Dyfi Osprey Project
• Environmental Association for Universities and Colleges (EAUC)
• Fair Trade Wales & Aberystwyth
• Friends of the Earth/Antifracking Group
• Miscanthus Research, IBERS
• Natural Resources Wales (NRW)
• Organic Centre Wales
• RSPB
• Student Garden
Leaflets from Forest Stewardship Council (FSC), Woodland Trust, Surfers Against Sewage and Operation Wallacea and WRAP Cymru will also be available.
Programme of seminars
10.15 – Field identification skills and 'hands-on' practical experience – Life learning field and conservation ecology courses – School of Lifelong Learning
10.30 – Greening the Canteen – Organic Centre Wales
11.00 – Recycling in Ceredigion – Ceredigion County Council
11.30 – Why Fair Trade? An Introduction to Fair Trade in the World's First Fair Trade Nation – Fair Trade Wales
12.00 – Little steps to Sustainability – AU Campus Services
12.30 – The Stress Response – AU Sports Centre
1.00 – A sustainable university – The Environmental Association for Universities and Collages
1.30 – Zero Carbon Britain – Centre for Alternative Technology (CAT)
2.00 – Green is the New Black – Beacon
2.30 – Miscanthus, ten years of research at IBERS – Miscanthus Research, IBERS
3.30 – An overview of Natural Resources Wales as an organisation – Natural Resources Wales
4.00 – Close