Corporate Health Standard Silver Award for Aberystwyth University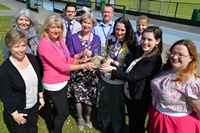 Staff members celebrate receiving the Corporate Health Standard Bronze Award which was presented to the University in March.
Aberystwyth University has gained the Silver Award under the Corporate Health Standard (CHS), the quality mark for workplace health promotion run by Welsh Government.
The Corporate Health Standard is delivered by Public Health Wales, and organisations are assessed across four levels from bronze, silver, gold to platinum categories in relation to their practices to promote and enhance the health and well-being of their employees.
Aberystwyth University was awarded the Corporate Health Standard Bronze Award only in July 2014.
Deputy Director of Human Resources at Aberystwyth University, Heather Hinkin, said: "This is excellent news. To be awarded the Silver Award less than a year after being awarded Bronze, shows we are making real progress.
"There is a great deal of excellent work taking place at Aberystwyth University to increase and promote health and well-being among staff and students. These include stress awareness, promoting healthy eating options in our cafes and restaurants, the Fit and Well initiative, supporting people who wish to give up smoking, and the current Travel the World campaign which encourages people to take regular exercise."
"I would like to thank the Corporate Health Steering Group and the staff, whose contribution to the ongoing work of promoting health and wellbeing at Aberystwyth University has laid the foundations for gaining this award."
Similarly to other workplace quality initiatives, the CHS initiative is a progressive programme and organisations are reassessed every three years.
The work to achieve the standard is consistent with the business excellence model, which drives quality and organisational development in many organisations.
More information about the Corporate Health Standard is available here.