Student tracks killer cats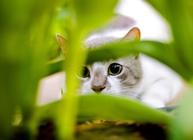 Pathological pussy-cats or misunderstood moggies?
Inspired by detective crime series 'Hinterland', Aberystwyth University Animal Science student Henriette Wisnes is investigating why cats kill so many other animals.
Pathological pussy-cats or misunderstood moggies?
Millions of animals are thought to be 'eliminated' by our precious little bundles of joy every year. But do our furry friends prefer a set menu across the country? Or is there a preference for local produce? And do some countries house more ferocious felines than others?
Using a simple online form the public is being asked to 'snitch' on their tabbies. Already, more than 250 participants from the UK and continental Europe have responded.
Henriette, who is now in her third year at Aberystwyth University's Institute of Biological, Environmental & Rural Sciences (IBERS) is investigating how natural hunting instincts in cats can impact on the local wildlife.
When asked what 'Fluffy' brings home, she says: "Some cats seem to have a preference for what one might expect: the usual mice and birds. Others have a more peculiar taste: One owner was particularly disgruntled when he found a live grass snake in his living room!".
The questionnaire takes only a few minutes, and anyone who owns a cat is welcome to participate in the investigation. You can find the form at http://bit.ly/1j9lE3c
"Although human activity has removed many top predators from much of western Europe, we have replaced some of their predatory effects through our fondness for cats" said Dr Rupert Marshall, Lecturer in Animal Behaviour at IBERS, who is supervising Henriette's project. "Humans affect their environment in a variety of ways, from noise and chemical pollution to habitat and climate change – pets are just another item on the list. Henriette is investigating the nature of their effects".
Henriette's research isn't all gloomy news – it is also revealing the diversity of wild animals that can be found close to human settlement: it isn't just fairies at the bottom of your garden.
And what do the cats think? One alley cat, who preferred to remain anonymous, admitted "I know it's bad, but they taste so mice!"
Animal behaviour is one of the most popular topics among students in the in the Institute of Biological & Environmental Sciences at Aberystwyth (IBERS) and is studied by students on degree schemes from Animal Science to Zoology. All IBERS students have an opportunity to conduct a research project in their final year.
Find out more about opportunities for behavioural research at Aberystwyth University & meet Dr Marshall and his colleagues at one of the upcoming Open Days on Saturdays 17th October & 7th November.
About IBERS
The Institute of Biological, Environmental and Rural Sciences (IBERS) is an internationally-recognised research and teaching centre providing a unique base for research in response to global challenges such as food security, bioenergy and sustainability, and the impacts of climate change. IBERS' scientists conduct research on genes and molecules, whole organisms and the environment.
With 360 members of staff, IBERS is the largest Institute within Aberystwyth University, teaching 1350 undergraduate students and more than 150 postgraduate students.
IBERS' Awards include the Times Higher Education Award in 2013 in the Outstanding Contribution to Innovation and Technology category and The Queen's Anniversary Prize for Higher Education 2009 for international leadership in public good plant breeding. IBERS was also awarded a BBSRC Excellence With Impact Award in 2011.
AU32715