IBERS student is 2015 Ladies British Off-road Motorcycle Champion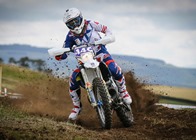 Rhian George riding to success on her motorcycle
Rhian George, in her third year of study towards a BSc in Sport and Exercise Science at Aberystwyth University's Institute of Biological, Environmental and Rural Sciences (IBERS), recently won the title of Ladies British Enduro BEC Off-Road Motorcycling Champion 2015.
Enduro is a form of motorcycle sport run on courses that are predominantly off-road, and consists of many different obstacles and challenges
Originally from Caio in Carmarthenshire, Rhian has been riding from the age of 11 and racing competitively from 13 years old.
Despite starting the 2015 racing season with a serious training accident which left her with amnesia and injuries to her knee, neck and lower back, Rhian remained determined to enter the Championship which involved competing in races on sometimes perilous off-road tracks throughout England, Scotland and Wales this year.
Rhian's progress was hampered by riding injured, often over hostile terrain in extreme weather conditions. She persevered and overcame numerous set-backs including repeated injury, severe nose-bleeds, a wrong turn and even a mishap with self-tan to take the Championship title.
Rhian said "I would like to thank all my sponsors at Freestyle for everything they have done for me; I also want to thank my Dad and Mum for getting me to all of the events and looking after me this year. Thank you to everyone who supports me and cheers me on at the events, it means the world to have your support!
Competing at a high level as well as studying for my degree is a challenge. Luckily I couldn't ask for a more supportive department. They made it possible to continue racing as well as studying for my degree, which has given me the amazing opportunity to work with professionals at IBERS who have worked with athletes.
This has been a brilliant experience and has helped me no end with my racing. I'm very happy to have gone unbeaten this season and to win my third British championship despite all the injuries.
I'm extremely lucky to be a part of such a supportive department as well as being a sports scholarship holder. Although injured at the moment, I am still very excited to get back to testing and training in preparation for the 2016 British and European championships.
I'd also like to take this opportunity to thank Aberystwyth University for my sports scholarship and also my department for being so understanding and supportive. It's great to have everyone on board with my racing aspirations."
Dr Simon Payne, Rhian's tutor and Lecturer in Sport, Exercise and Health Psychology at IBERS said, "I am very proud of Rhian - indeed, any student successes of this magnitude. Rhian's winning attitude shines in the classroom too; she approaches her learning with the same challenge mentality that sees her dominate on the bike.
Rhian is on course for great things in her chosen scientific profession alongside the step up in Enduro competition she will make next season, to the European stage!"
AU34815