Aberystwyth University shortlisted for three Business and Education Partnerships Awards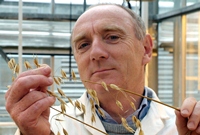 Professor Athole Marshall,who led the oat breeding programme with Senova at IBERS which is shortlisted for a Business and Education Partnership Award
Aberystwyth University has been shortlisted for three awards at the Business and Education Partnerships Awards 2015 which will be held in Cardiff on Wednesday 4th November 2015.
The awards, now in their second year, celebrate collaboration between companies, universities and colleges.
Aberystwyth University has been nominated in 3 categories:
• Research & Development – Aber Instruments collaboration with IBERS, led by Dr Hazel Davey at IBERS. The collaboration has developed an unique method of biomass monitoring in industrial fermenters.
• Economic Impact – The oat breeding programme with Senova led by Professor Athole Marshall at IBERS. Varieties developed by the IBERS oat breeding programme seek to contain higher levels of beta glucan than other oat varieties and therefore offer enhanced health benefits. 65% of all oats used in the UK have been developed at IBERS.
• University of the Year – Aberystwyth University
Dr Rhian Hayward, Business Development Manager at Aberystwyth University's Research, Business & Innovation said: "I am delighted that Aberystwyth University has been recognised for the collaborative work with commercial partners. Aberystwyth University has a long and distinguished record of developing research for commercial use, and applying university knowledge to tackle current global challenges."
A full list of those shortlisted for awards can be found here.
AU33515