Aberystwyth Innovation and Enterprise Campus Limited appoints first Chief Executive Officer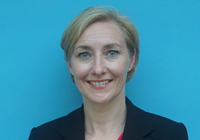 Dr Rhian Hayward MBE
Aberystwyth Innovation and Enterprise Campus Limited has announced the appointment of its first Chief Executive Officer.
Dr Rhian Hayward MBE will take up the post in January 2017 and will lead the newly formed joint venture between Aberystwyth University and the Biotechnology and Biological Sciences Research Council, which has been created to build and operate the proposed Innovation and Enterprise Campus (AIEC) on the outskirts of Aberystwyth.
Dr Hayward brings a wealth of highly relevant experience gained over twenty-five years in both the private and public sectors focused on bringing products to market in the life sciences sector.
She takes up the CEO role following her recent post as Head of Knowledge Exchange at the Department of Research, Business & Innovation at Aberystwyth University.
Prior to joining Aberystwyth University, Dr Hayward worked in the private sector running a consultancy business advising investors, universities and SMEs on the commercialisation of early stage life science technologies.
Dr Hayward has also held several commercial roles in marketing, business development and product management within the biotechnology industry.
"I am delighted to lead the Aberystwyth Innovation and Enterprise Campus and to offer companies a step change opportunity to innovate in collaboration with Aberystwyth University experts," said Dr Hayward.
"The campus will provide a world class capability in Wales for the development of new products and services for the whole life sciences community. I look forward to supporting entrepreneurs, start up companies, and industry partners with scale up projects, to access facilities and expertise of a unique quality, scale and variety."
After gaining a BSc. first class honours degree in Biology from King's College, London, and completing her doctorate at the University of Oxford, Dr Hayward went on to undertake postdoctoral research at the National Institute of Health, Bethesda, USA. Moving into industry,
Dr Hayward then held several positions within start up and spin out companies in the south east of England.
Originally from Swansea, Dr Hayward was awarded an MBE for services to Entrepreneurship in Wales in the Queen's 2016 Birthday Honours list.
As Chief Executive Officer for Aberystwyth Innovation and Enterprise Campus Limited, Dr Hayward will be responsible for providing operational leadership and ensuring the sustainability of the new campus, and contributing to driving economic growth in the region and beyond through the creation of high value jobs and a thriving campus community of knowledge-based companies.
Dr Timothy Brain, Chairman of Aberystwyth Innovation and Enterprise Campus Limited, said: "We are delighted with Dr Hayward's appointment. She has demonstrated that she has a clear vision to make the Innovation and Enterprise Campus a success. We look forward to working with her."
Funded by the European Regional Development Fund, through the Welsh Government; the Biotechnology and Biological Sciences Research Council (BBSRC) and by Aberystwyth University, the Innovation and Enterprise Campus will provide world leading facilities and the expertise to create market focused solutions for the agri-tech industry.
The AIEC will build on the existing capabilities within Aberystwyth University's Institutes, working particularly closely with the Institute of Biological, Environmental and Rural Sciences (IBERS) to enhance, and enable access to, the excellent research capabilities currently offered.
A final planning application for AIEC will be submitted in late 2016. Proposed facilities at the AIEC include a Bio-refining Centre, Future Food Centre, Analytical Science laboratories and a Seed Processing and Biobank Facility. It will also provide formal and informal meeting areas and office/laboratory accommodation for companies.