ApAber mobile app helps plan uni life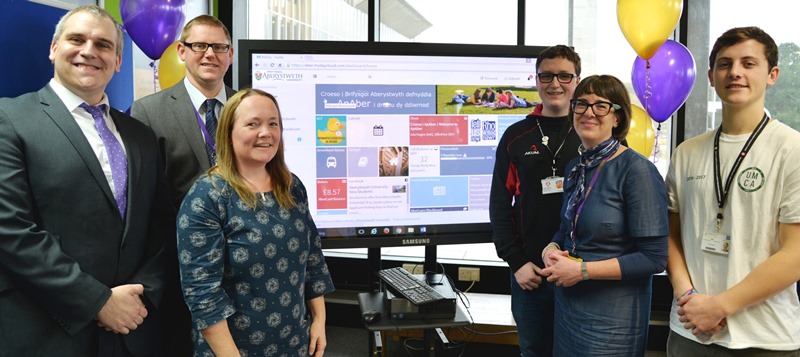 Pictured at the launch of ApAber are (left to right) Matt Fullwood, Tim Davies and Iola Hagen from Aberystwyth University Information Services, Ryan Myles Aberystwyth University Students' Union, Rebecca Davies Pro-Vice Chancellor Aberystwyth University and Rhun Dafydd, President of Undeb Myfyrwyr Cymraeg Aberystwyth.
Aberystwyth University has launched a new bilingual app to make it easier for students to plan their day.
ApAber has been designed to bring together a range of study-related services on a single screen.
Students can check what lectures and seminars they have, access their AberLearn virtual learning pages, look at local bus timetables and see what public computers are available.
ApAber also allows users to check their network usage, their attendance record, how much money they have on their AberCard or how much they may owe in libary fines.
Urgent messages can be posted via the app by the University if, for example, lectures have to be cancelled because of heavy snow.
Pro Vice Chancellor and Chief Operating Officer at Aberystwyth University, Rebecca Davies, said: "We know that most students use their mobile phones to organise their lives so ApAber should make it easy for them to access all the information they need to plan their time effectively. It's all part of our commitment at Aberystwyth to continually improve the student experience and respond to the needs of today's learners."
ApAber was piloted as MyAber at the beginning of the 2016-17 academic term and has already been downloaded by more than 5,000 students and members of staff.
It's now being launched as ApAber, a fully bilingual app which allows students to choose Welsh or English as their default language.
Another useful feature being developed is a series of maps to help new students and staff find different locations on campus, including lecture theatres and seminar rooms.
The app has been designed by Information Services staff at Aberystwyth University, in collaboration with education software developers Collabco.
Director of Information Services, Tim Davies, said: "ApAber is a comprehensive one-stop-shop which brings together in a single portal all the systems and services our students are likely to need on any given day. It's a one-stop-shop which makes it easier for them to find information which is critical to their studies and to manage their workload.
"We've already had some excellent feedback on the app but we want to find out more so we'll be holding focus groups with our students over the coming weeks and months. We'll also be working with individual Departments and the Students' Union to see how ApAber can be tailored to their needs."
You can read more about ApAber on our website or download the app free from iTunes or Google Play.