Aberystwyth University student wins Undergraduate of the Year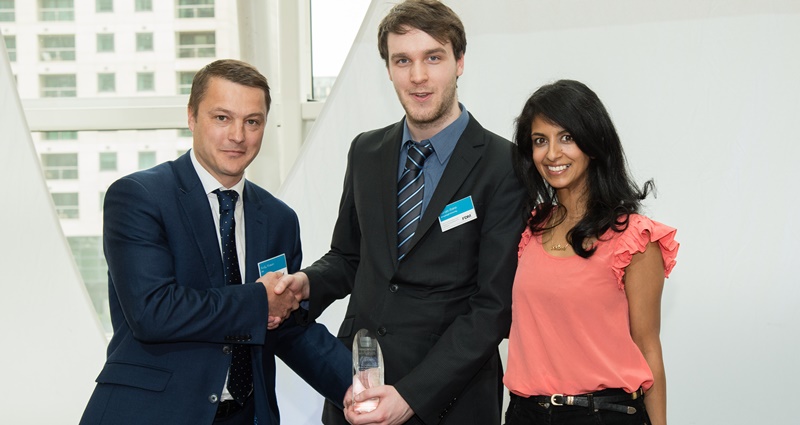 Kieran Stone (centre) receives his award from sponsor Andy Brown of FDM Group and writer and television presenter Konnie Huq.
An Aberystwyth University student has won a top prize at the annual TARGETjobs Undergraduate of the Year awards.
Final year Artificial Intelligence and Robotics student Kieran Stone won the Computer Science, IT and Physics Undergraduate of the Year award.
Kieran received the FDM Group sponsored prize from writer and television presenter Konnie Huq at an awards ceremony held at London's Canary Wharf on Friday 22 April 2017.
Speaking of his success, Kieran said: "I'm blown away by all this. The selection process which included a telephone interview and online tests was gruelling and I didn't think I had made it even on to the lists of finalists. I was shocked to be crowned winner as the calibre of the other finalists was amazing."
"This has massively increased my confidence and my success reflects the excellent skills we as computer science students here at Aberystwyth University have aquired and which are sought after by employers."
As part of his prize Kieran has won a month long internship at FDM Group's London office which he plans to take up this summer, once he completes his studies at Aberystwyth.
Inspired to study robotics by a visit to the Gadget Show Live, Kieran chose Aberystwyth after being impressed by the facilities, and in particular the robotics laboaratory, during an open day visit.
Originally from Banbury in Oxfordshire, he also felt imediately at home in Aberystwyth, describing it like his "home away from home".
During his third year, Kieran spent a year working with electronics manufacturer Abaco Systems at its Towcester site. He is currently working on his final year project which focuses on statistical testing and data mining.
Dr Bernard Tiddeman, Head of the Department of Computer Science at Aberystwyth University said: "Huge congratulations to Kieran on winning this prestigious award and the internship that comes with it. Kieran has shown great initiative in not only entering but winning this award, and I'm sure that his experiences of studying here at Abeyrstwyth University will have played a big part in his success. In particular, his industrial year at Abaco Systems as part of his degree in Artificial Intelligence and Robotics, and the opportunities to engage with outreach, combined with the technical aspects of his degree, will have all played a part. We wish him well in the future and are confident he will build on his success."
Now in their 8th year, this year's TARGETjobs Undergraduate of the Year awards attracted 3,441 applications from universities across the UK.
A three stage assessment process which included an online assessment with situational, numerical and inductive reasoning tests and an in-person assessment with the respective award sponsor whittled down the list of entrants to ten finalists for each of the twelve awards.
For the Computer Science, IT and Physics Undergraduate of the Year award, Kieran was up against finalists from the universities of Essex, Abertay Dundee, Birmingham, Manchester, Queen Mary (University of London) and Imperial.
GTI director, Simon Rogers said: "The 12 winners have achieved so much already, and all demonstrate dedication, ambition and generosity, making them stand-out among their peers. They are a testimony to the exceptional young talent the UK has to offer today".
This year's TARGETjobs Undergraduate of the Year awards were sponsored by prominent graduate recruiters ACCA, Barclays, Deutsche Bank, Enterprise Rent-A-Car, E.ON, FDM, First Names Group, Gazprom, Laing O'Rourke, L'Oréal and Rolls-Royce.
A full list of TARGETjobs Undergraduate of the Year awards and further information is available online here.
In the latest National Student Survey (2016), the Department of Computer Science achieved an impressive overall satisfaction rating of 91%, and was ranked in the top 15 in the UK.
To find out more about studying Computer Science at Aberystwyth University click here.