Aberystwyth University celebrates Graduation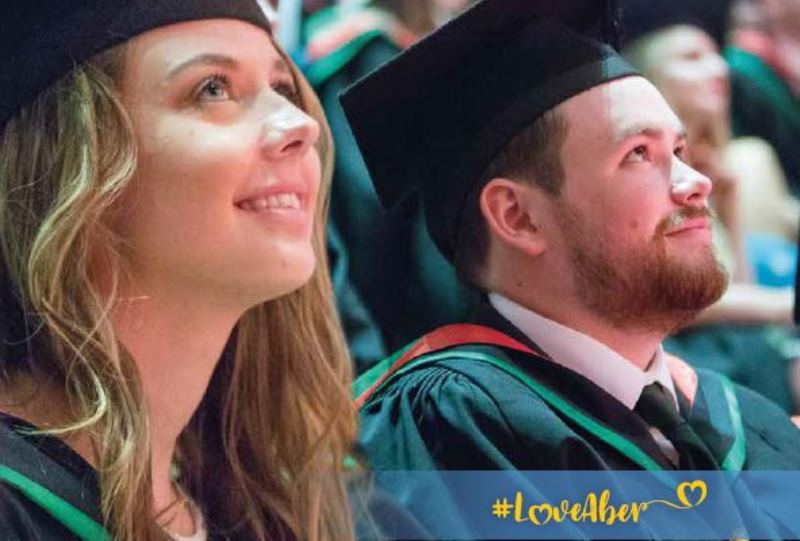 Graduation 2017 takes place over eight ceremonies between Tuesday 18 and Friday 21 July.
The pomp and circumstance of Graduation returns to Aberystwyth this week as the University prepares to celebrate the academic successes of its newest graduates.
A pinnacle of the academic year, Graduation 2017 sees eight ceremonies taking place over four days between 18 and 21 July 2017 at Aberystwyth Arts Centre's Great Hall.
This year's ceremonies will be a first for Aberystwyth's new Vice-Chancellor, Professor Elizabeth Treasure.
Looking forward to her first ceremony, Professor Treasure said: "Graduation is a pinnacle of the academic year and marks the culmination of hard work over many years. It is a wonderful and joyous occasion when we celebrate our students' success in the company of the supporters, family and friends. Sharing this special day with our new graduates is a great privilege. We thank each and everyone one of them for being part of our community here in Aberystwyth and wish them every success as they pursue their chosen careers."
This year will also see graduation streamed live on Facebook. To follow proceedings go to https://www.facebook.com/aberystwyth.university/
The University will also be sharing the latest graduation news and successes on twitter; @aberuni / @prifysgol_aber and #AberGrad, and there will be a photo-booth at the Students' Union @UMaberSU for those wishing to have their picture taken.
Members of the University's Communications Team will also be at Graduation and looking for student success stories. If you have a story to tell, call in to see us at the Arts Centre café or send your details to communications@aber.ac.uk.
Order of ceremonies for Graduation 2017
Tuesday 18 July
Ceremony 1, 11:00am
Art; Education; English and Creative Writing
Ceremony 2, 3:00pm
Business; Modern Languages; Welsh and Celtic Studies
Wednesday 19 July
Ceremony 3, 11:00am
Biological, Environmental and Rural Sciences; Theatre Film and Television Studies
Ceremony 4, 3:00pm
Biological, Environmental and Rural Sciences
Thursday 20 July
Ceremony 5, 11:00am
Information Studies; Law
Ceremony 6, 3:00pm
Computer Science; Mathematics; Physics
Friday 21 July
Ceremony 7, 11:00am
Geography and Earth Sciences; Psychology
Ceremony 8, 3:00pm
History and Welsh History; International Politics
Graduation 2017 will also see the University confer six Honorary Fellowships and two Honorary Batchelor of Science degrees.
Honorary Fellowships will be presented to Lance Batchelor BSc MBA, Aberystwyth alumnus and Chief Executive Officer of Saga plc; Martin Conway MA DPhil Oxf, FRHistS, Fellow and Tutor in History at Balliol College, Oxford, and Professor of Contemporary European History; Gareth Howell LLB, an Aberystwyth law graduate who has shown innovative leadership in devising practical solutions to problems in countries facing extreme transitions in their national life; Heini Gruffudd BA, teacher, author, and language campaigner, and chairman of Dyfodol I'r Iaith; Louise Rickard BSc PhD PGCE, Welsh Rugby centurion and Aberystwyth alumna (BSc Hons Zoology, PhD Marine Biology), and currently Head of Biology at Woodbridge School in Suffolk; and Dato' Mohamed Sharil bin Mohamed Tarmizi LLB, an Aberystwyth University alumnus and former telecoms, media and postal regulator in Malaysia.
Honorary Bachelor of Science Degrees will be presented to David Alun Jones, Vice President of the Football Association of Wales (FAW), and Alan Lovatt, Senior Grass Breeder in the Institute of Biological, Environmental and Rural Sciences (IBERS) at Aberystwyth University.