Aber alumna wins Eisteddfod Crown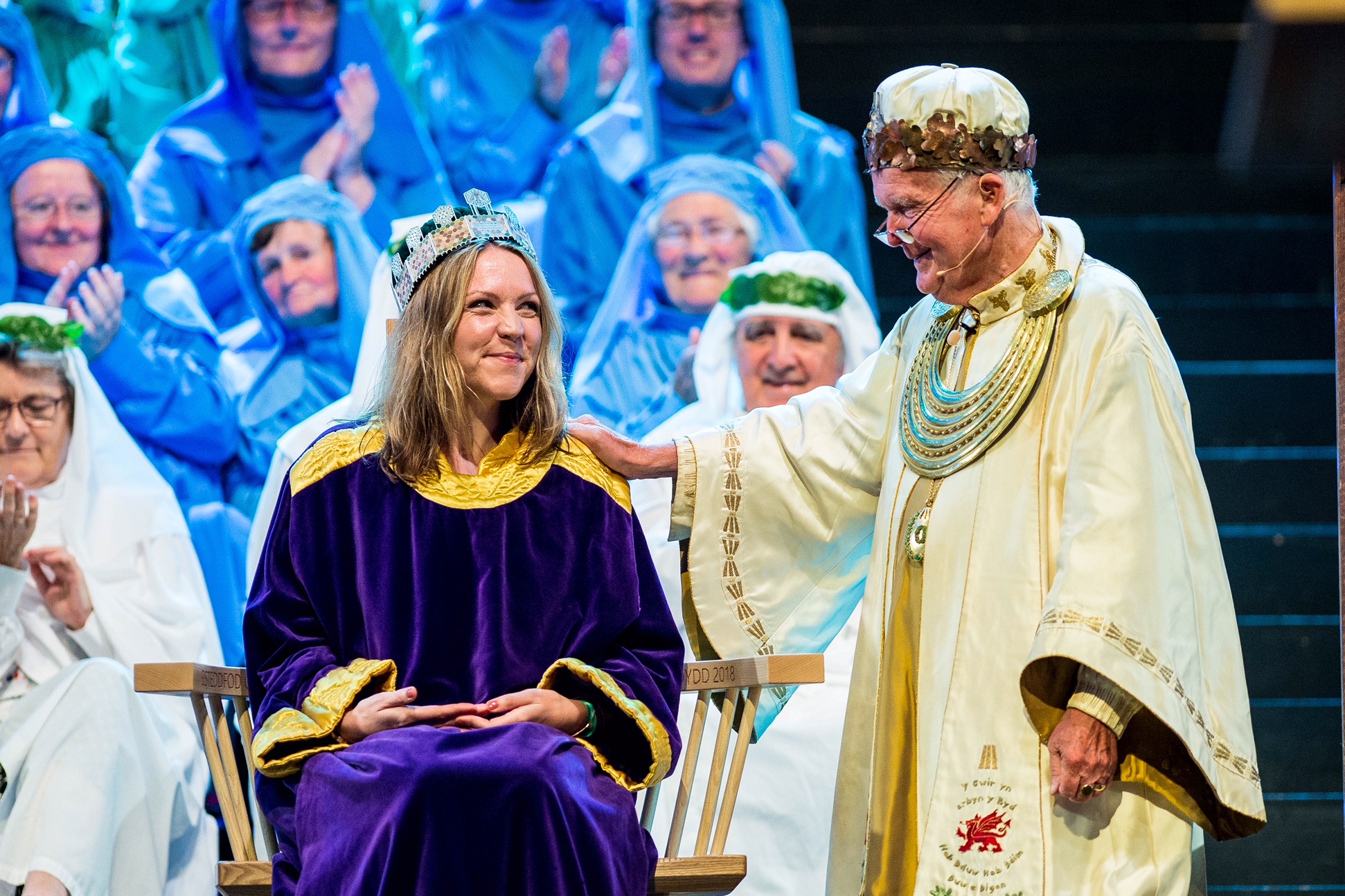 The winner of the 2018 Cardiff Eisteddfod Crown is Catrin Dafydd, who graduated from the Department of Welsh & Celtic Studies at Aberystwyth University in 2003.
The 2018 National Eisteddfod of Wales Crown in Cardiff has been won by Catrin Dafydd, a graduate of the Department of Welsh & Celtic Studies at Aberystwyth University.
Described as one of Wales's most exciting young poets and writers, Catrin Dafydd won the prestigious Crown for a collection of poems not in strict metre of no more than 250 lines on the theme of 'Olion' (Traces). 
Adjudicators Christine James, Ifor ap Glyn and Damian Walford Davies placed her ahead of all other poets in a competition which attracted 42 entries.
Speaking on behalf of her fellow judges, Christine James explained why Yma's collection by Catrin Dafydd was worthy of the Crown. 
"The theme of this collection is the diverse Welshness of Grangetown – the area over the river from this year's Eisteddfod. The poet introduces us to a community of characters set on a 'map' of local streets, through a series of dramatic monologues.
"Yma can write tenderly, but as the poem 'Jentriffiecshyn' shows, the poet can also write in a tongue-in-cheek style, raising questions about what exactly happens when Welsh speakers 'colonise' areas of the city.
"This is a timely and appealingly hopeful collection by a poet who is an eloquent interpreter for our capital city's lively and diverse Welshness."
Originally from Gwaelod y Garth, Catrin graduated from Aberystwyth University with a First Class degree in Welsh in 2003 and was President of Aberystwyth's Welsh students' union UMCA, 2003–04.
Last year's Eisteddfod Crown on Anglesey was also won by a former Aberystwyth student and UMCA President, Gwion Hallam, and the last time the National Eisteddfod was held in Cardiff in 2008, the Crown was won by one of Catrin Dafydd's fellow students Hywel Griffiths, who is now a lecturer in the Department of Geography and Easth Sciences at Aberystwyth.
Dr Rhodri Llwyd Morgan, Director of Welsh Language and Culture at Aberystwyth University, said: "We extend our warmest congratulations to Catrin on winning one of the glittering prizes of the National Eisteddfod. Since graduating from the Department of Welsh and Celtic Studies at Aberystwyth, she has experienced success in many fields of writing – as a poet, novelist, scriptwriter and editor. She also made a valuable contribution during her time as President of UMCA and has been a passionate campaigner for the Welsh language and other causes close to her heart. We wish Catrin well in all her future endeavours as she continues to develop her creative career."
Catrin now lives in Cardiff and works as part of the Pobol y Cwm writing team. She has written five novels, with the latest, Gwales, winning this year's Fiction Prize in the Welsh language Book of the Year competition.  Her other novels are Pili Pala, Y Tiwniwr Piano, Random Deaths and Custard and Random Births and Love Hearts.
She edited both Tu Chwith and Dim Lol magazines, and in 2011, she was among a group of young poets who set-up the Bragdy'r Beirdd evenings in Cardiff.  
An active member of Cymdeithas yr Iaith Gymraeg (Welsh Language Society) and other groups, Catrin is also a member of the Diwrnod Shw'mae Sumae team, promoting the fact that the Welsh language belongs to everyone in Wales.
This year's Crown was donated by Cardiff University, with the financial prize presented by Manon Rhys and Jim Parc Nest.
The Crown was designed and created by Laura Thomas from Neath who put in more than 400 hours of work to produce a unique Crown that is modern yet respectful of the Eisteddfod's traditions.
Her inspiration for the design was derived from her signature technique, parquetry, where she inlays wood veneer into sterling silver. The Crown features more than 600 hexagonal inlays, all added by hand.
The winning poems have been published on the Eisteddfod website and the Cyfansoddiadau a Beirniadaethau, which includes the full adjudication for this competition and the winners of all the other composition winners at this year's Eisteddfod will be published at the end of the Chairing Ceremony on Friday afternoon 10 August 2018.
The Cardiff National Eisteddfod is held in Cardiff Bay until 11 August. Aberystwyth University has a stand near the Senedd (303-304) and has organised a host of events and activities throughout the week: https://www.aber.ac.uk/en/news/archive/2018/08/title-215505-en.html.