Entrepreneurial students invited to bid for £10,000 prize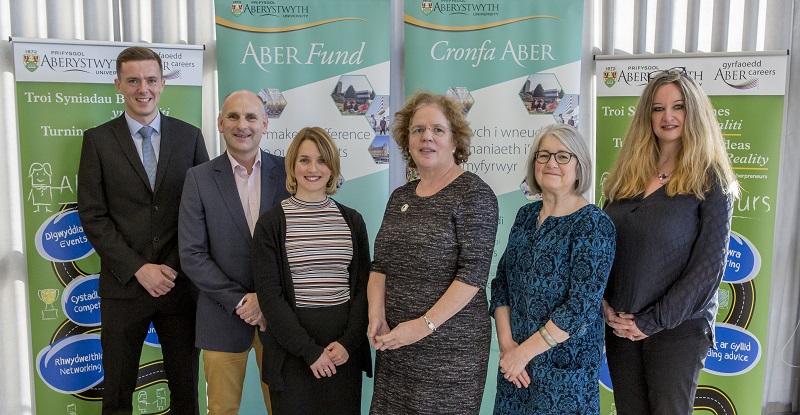 Marking the launch of InvEnterPrize 2019 are (left to right): Ben Jones, Aberystwyth Innovation and Enterprise Campus Marketing and Parnerships Manager; Tony Orme, Aberystwyth University Career Consultant; Hayley Goddard, Aberystwyth University's Individual Giving Officer; Elizabeth Treasure, Vice-Chancellor of Aberystwyth University; Caryl Davies, Head of Student Support and Careers Services and Lorri Browning from Welsh Government.
The 2019 edition of Aberystwyth University's enterprise competition has been launched, with a £10,000 prize on offer to the winning entry.
InvEnterPrize offers entrepreneurial students an opportunity to develop and pitch ideas to a panel of distinguished Aberystwyth University alumni.
The successful entry will be able to invest its winnings in equipment, facilities or professional services to turn an invention or business start-up idea into reality.
As well as an investment of £10,000, free office space for one year at the Aberystwyth Innovation & Enterprise Campus is also up for grabs for proposals in the bio-sciences, life sciences and agriculture sectors.
Now in its fifth edition, InvEnterPrize 2019 was launched on Monday 12 November 2018 by Professor Elizabeth Treasure, Vice-Chancellor of Aberystwyth University.
Professor Treasure said: "Aberystwyth University has a long history of promoting innovation, creativity and entrepreneurship and it is a pleasure to launch the latest edition of InvEnterPrize, which offers an excellent opportunity for our students to develop exciting new ideas and have them critically evaluated by successful industrialists. Employability lies at the heart of the student experience here at Aberystwyth and I am grateful to our alumni for their support for this innovative competition which offers an ideal opportunity to develop and potentially launch a successful business venture and career."
InvEnterPrize, however, is not just about winning the top prize.
As entrants develop their ideas, they will be able to seek expert advice and attend a series of workshops and presentations led by Aberystwyth University's 'AberPreneur' Network, gaining valuable advice on the way.
A shortlist of finalists will be invited to present their business proposals to the panel of judges in a Dragon's Den competition event on Friday 29 March 2019.
This year's entrants will be looking to emulate the success of Clipr, who won the InvEnterPrize top prize title in 2018.
Developed by James Bryan, James Stone and Howun Lam, Clipr is a mobile app designed to revolutionise bookings in the hair and beauty sector.
James Bryan said: "Winning InvEnterPrize has enabled us to build on the proof of concept we established in Aberystwyth and work towards raising our seed round and growing Clipr in Brighton, Cardiff and Oxford".
Sponsored by contributions from the University's alumni, InvEnterPrize is organised by the University's Careers Service.
Director of Development & Alumni Relations, Louise Jagger said: "InvEnterPrize can mean so much to someone with a great idea that needs the financial support and guidance to get it off the ground. We are very grateful to the alumni who continue to give so generously towards the Aber Fund which funds the prize money and to the alumni and supporters giving time on the judging panel."
The original concept was developed by the University's Career Consultant and entrepreneurship champion, Tony Orme.
Speaking at the launch, Tony said: "The launch of the fifth InvEnterPrize Competition during Global Entrepreneurship Week is not only an exciting moment for entrepreneurial students at the University, but it also continues to be the biggest Enterprise Prize in Wales, with a prize fund of £10,000 from our fabulous alumni… and one of the biggest student enterprise competitions in the UK".
"In addition to the prize money, InvEnterPrize is supported by our alumni in another important way, with six prominent Aber grads acting as the Dragons, assessing students' ideas and picking a winning product or service to invest in".
Aberystwyth University offers a full programme of events to support entrepreneurial activity amongst students (across all degree programmes), graduates and staff.
The application deadline for InvEnterPrize 2019 is Monday 4 February 2019. To find out more visit the AberPreneurs online page.