Aberystwyth scoops three Whatuni Student Choice awards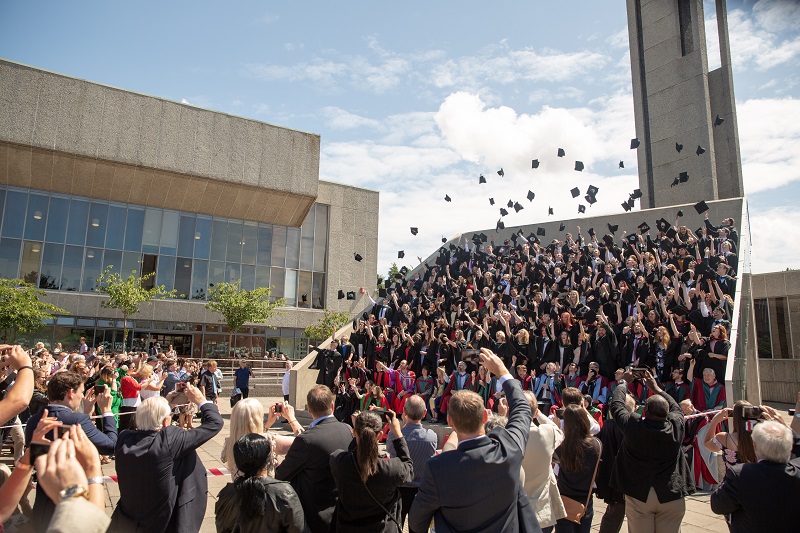 Aberystwyth University has picked up three accolades in the 2019 Whatuni Student Choice Awards.
At a special ceremony in London on Thursday 25 April, Aberystwyth was presented with Gold in the Postgraduate category for a second consecutive year, and Silver in the University of the Year and International categories.
The University also made the UK top ten in the Accommodation and Clubs & Societies categories.
Now in their sixth year, the Whatuni Student Choice Awards' main categories are compiled entirely from student reviews.
For 2019, more than 41,000 reviews were collected either face-to-face or electronically by the Whatuni team from over 160 higher education institutions.
The annual survey also shows that students across the UK are happier than they were last year, and saw Welsh higher education institutions outperforming their counterparts in Scotland and England across all categories.
Simon Emmett, CEO of IDP Connect which owns Whatuni, said: "This year's strong results are a clear indicator that despite the increasing cost associated with accessing a university education, students recognise and value the opportunities, support and teaching that they receive."
Professor Tim Woods, Pro Vice-Chancellor for Learning, Teaching & Student Experience at Aberystwyth University, said: "Student satisfaction with the quality of teaching and the quality of life at Aberystwyth is consistently high, and we are delighted to see these excellent levels of satisfaction reflected in the latest reviews and feedback gathered from our students by the Whatuni team. Our success is due to the exceptional commitment, dedication and expertise of our staff, and we will continue to build on our strengths to ensure the best possible education experience for our students. This year's Whatuni Student Choice Awards show not only that Aberystwyth is an outstanding university, but also that Wales is the best place to study in the UK."
Martha Longdon, Student Experience Board Member for the Office for Students and Whatuni Student Advisory Board Member, said: "Reviews and comments are vital to improving the student experience and provide an invaluable narrative of university life by allowing students to feedback on the issues they care most about. As students are increasingly seen as partners and co-creators in their education, this method allows them not only to offer detailed praise and concerns, but also the opportunity to suggest creative and innovative solutions which institutions may not have considered."
In the latest National Student Survey (NSS 2018), Aberystwyth University was top in Wales and among the best in the UK for overall student satisfaction. Aberystwyth was also named the UK's University of the Year for Teaching Quality by The Times and Sunday Times Good University Guide for 2018 and 2019.