Research on child Holocaust survivors to improve lives of present-day refugees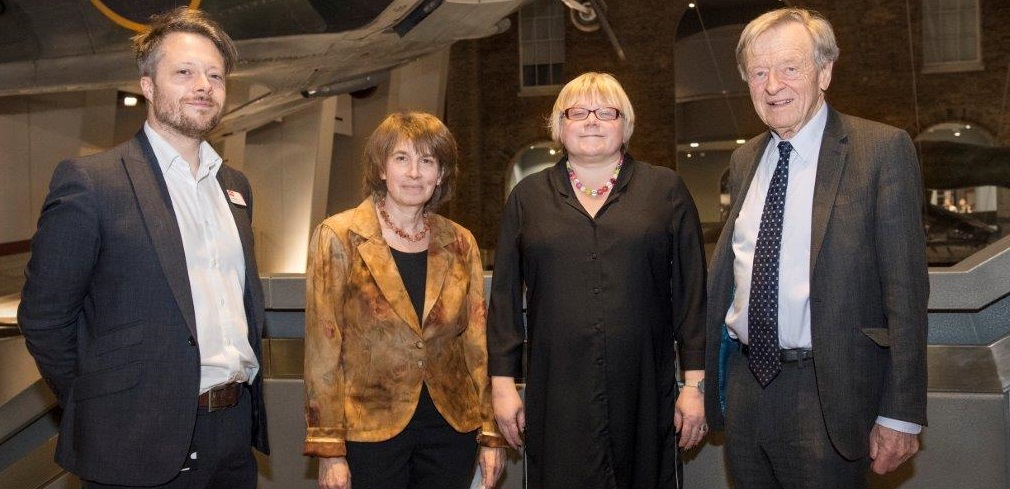 Dr Andrea Hammel (second from right) with by Lord Alf Dubs (right), who himself arrived on a Kindertransport in the UK aged six, pictured at an event hosted at the Imperial War Museum in 2018.
As the UK commemorates Holocaust Memorial Day 2020 (27 January), researchers at Aberystwyth University are hoping to improve the lives of people fleeing conflict and violence today by studying the experiences of children who escaped National Socialist Central Europe in the 1930s and 1940s.
Dr Andrea Hammel from the Department of Modern Languages at Aberystwyth University, and a small team of researchers are looking into the Adverse Childhood Experiences (ACE) of people who escaped the Holocaust and the National Socialist dictatorship to learn lessons for the future.
The research is funded by the Cymru Well Wales Adverse Childhood Experiences Support Hub which recognises that negative experience in childhood such as violence and neglect increase the likelihood of harmful behaviours in adulthood with consequences for the individual and society.
According to Dr Hammel, interviews and written testimonies by former child refugees show that most of them had witnessed or experienced the violence that was part of the National Socialist oppression.
"They describe seeing members of their families and communities being beaten and humiliated, most suffered verbal, and some suffered physical abuse themselves, before being able to flee and resettle in the UK," she said.
"But in some cases their ordeal did not end there: child refugees of the 1930s and 40s tell of stories of abuse and neglect in their early years after arrival as institutions tried to cope with finding suitable placements for those who had arrived unaccompanied, and educational and psychological support for all child refugees, including those who fled with their equally traumatised families."
"Because of the historical dimension of this study, and the fact that many former child refugees continued to live in the UK until old age, longitudinal analysis is possible."
"This means that both the consequences of the childhood experiences in adult life can be investigated, as well as strategies for resilience."
The purpose of the study is to inform future policy regarding support for children fleeing conflict and violence today.
Dr Hammel added: "The motto of Holocaust Memorial Day 2020 is Stand Together. As the plight of refugees seems to continue today, it is our duty to stand together to support the most vulnerable group, child refugees. We can do this in many ways, but one way is to find out about the experiences of Holocaust child survivors and refugees in the past, in order to improve the situation of child refugees today, and of children and adults in the future."
Joanne Hopkins, Director of the Adverse Childhood Experiences Support Hub said: "The Adverse Childhood Experiences Support Hub was established in 2017 and is funded by the Welsh Government to transform Wales into an ACE aware, trauma informed nation. Key to this is understanding the adversity faced by all communities, and the strength and resilience they have, including children and families who come to UK to seek sanctuary.
"The historical experience of children who were part of the Kindertransport is a vital area of work; the experiences of all involved provides valuable learning for our developing work on trauma informed approaches to supporting refugees and asylum seekers under the Welsh Government Nation of Sanctuary Plan. This exciting research comes at a time when more than ever we need to learn the lessons of the past to ensure all those arriving now and in the future to make Wales their home are able to access the support they need."
Dr Andrea Hammel
Dr Andrea Hammel is a Reader at the Department of Modern Languages at Aberystwyth University and an authority on Kindertransport which saw 10,000 children travel by train to the UK from Nazi Germany before the outbreak of the Second World War.
Writing in November 2018, Dr Hammel argued that it was too simplistic to see the operation purely as a success story.
Dr Hammel wrote: "Around 10,000 human lives were saved, but many paid a heavy price. Even those families that were able to reunite were often broken beyond repair."
The full article The 1938 Kindertransport saved 10,000 children but it's hard to describe it as purely a success was published in The Conversation.
In 2019 Dr Hammel's work featured in 'Am Ende des Tunnels' ('At the end of the tunnel'), an exhibition at Berlin-Charlottenburg railway station, one of the stations used by German Jewish aid organisations to put children on trains that brought them to the UK.