Aberystwyth University conference to inspire learning and invigorate teaching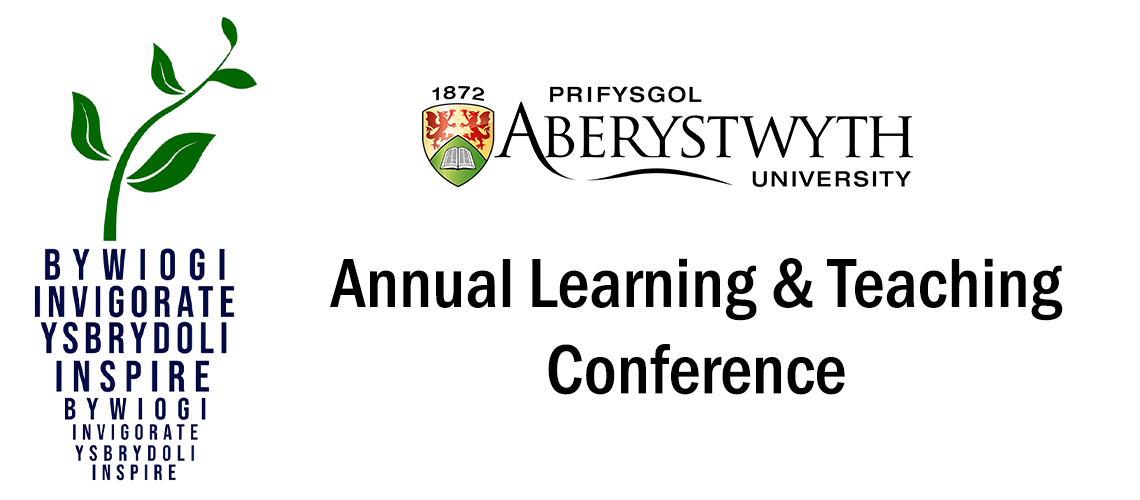 Helping students to feel connected as socially distanced learning becomes the new normal; using the 'muddiest point' to reflect on student progress and understanding; and whether sleep quality, attendance and mental health issues are predictive of academic performance, are amongst the many subjects under discussion at this year's Aberystwyth University Learning and Teaching Conference.
Now in its eighth year, the event takes place over three days from 7-9 September 2020, and will take place online this year.
The annual conference provides an opportunity to share some of the latest innovations and good practice in teaching and learning. The theme for this year's conference is 'Enhancing the Curriculum: Inspire Learning and Invigorate Teaching!'
The broad and varied conference programme is based around five strands: Pivoting to Online Learning, Creating a Learning Community, Developing Wellbeing in the Curriculum, Embedding Active Learning and Working with Students as Partners.
The keynote address will be given by Professor Ale Armellini from the University of Northampton, who will be talking about embedding active blended learning into all of their courses. In addition, Dr Kate Lister from the Open University will discuss embedding wellbeing into the curriculum, and offer a 'drop-in' session where colleagues can ask specific questions about the wellbeing strategy. Gillian Fielding from Blackboard will also be joining the conference to offer examples of tools that can be used to engage students in online learning.
As well as external speakers, there will be a wide range of presentations and discussions from colleagues across the University, offering examples of good practice, practical tips and case studies.
Dr Jim Woolley from the University's Learning and Teaching Enhancement Unit which organises the event, said: "We are really pleased with the wide and varied programme at this year's Annual Learning and Teaching Conference, demonstrating the full range of exemplary and cutting edge teaching practices taking place across Aberystwyth University. Conference attendees will benefit from presentations based on practical teaching scenarios that can be embedded to enhance their teaching, as well as some practical solutions to increased online teaching and socially distanced face-to-face teaching. Many presenters will be sharing their innovative teaching methods and technological solutions following their move to online learning in March.
"The conference is an annual highlight for the Learning and Teaching Enhancement Unit. This year marks a change with us delivering the conference online, but we've ensured that colleagues will still have the opportunity to share their experiences and practices with each other, with social online spaces created, alongside the panels. Thank you to our speakers and our external guests for contributing to this year's conference. We hope that attendees find the conference useful for their current teaching contexts and we're looking forward to seeing you face-to-face at next year's conference."
During the conference, this year's Exemplary Course Award Winner and Highly Commended Achiever will be presented.
In what was a close-run contest, Dr Lara Kipp from the Department of Theatre, Film, and Television Studies, has been awarded this year's Exemplary Course Award for the module Principles of Scenography. The panel commended the module for its innovative assessment design and support, clear and logically ordered learning materials, novel use of announcements, and offering students multiple ways to engage with their learning activities.
Dr Rhianedd Jewell from the Department of Welsh and Celtic Studies was Highly Commended for the module Y Gymraeg yn y Gweithle. The panel commented that the module provided students with excellent resources and scenario driven assessments that assisted greatly with student learning and engagement.
The aim of the University's Exemplary Course Award is to recognise the very best learning and teaching practices by giving staff members the opportunity to share their work with colleagues, enhance their current modules in Blackboard, and receive feedback on their modules. Modules are assessed across four areas: course design, interaction and collaboration, assessment, and learner support. The self-assessed nature of the award gives staff the opportunity to reflect on their course and enhance aspects of their module before a panel assesses each application against the rubric.
The full programme for Aberystwyth University's Learning and Teaching Conference 2020 is available online - https://tinyurl.com/y6buapxu. The event takes place via Microsoft Teams and is open to all staff at Aberystwyth University, who can join for as much or as little of the conference as they wish. It's not too late to register – places can be booked online - https://aber.onlinesurveys.ac.uk/ltc2020
Aberystwyth University was awarded Gold in the Teaching Excellence and Student Outcomes Framework (TEF) in June 2018. It was named University of the Year for Teaching Quality in in The Times / The Sunday Times Good University Guide in 2018 and 2019, the first university to be awarded the accolade for two years running, and Welsh University of the Year in 2020.
In the 2020 National Student Survey, Aberystwyth was the best university in Wales, and of the universities featured in The Times / Sunday Times Good University Guide 2020, is one of the top 5 universities in the UK for overall student satisfaction.