£10,000 investment up for grabs for enterprising Aberystwyth students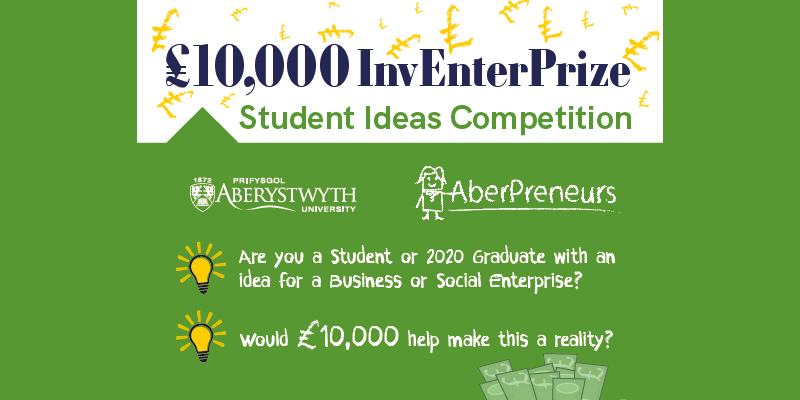 Aberystwyth University students and new graduates are being invited to enter the annual student enterprise competition for the chance to bag a £10,000 investment in their business idea.
Launched in 2012, the InvEnterPrize competition provides a yearly opportunity for entrepreneurial students to develop a business concept or social enterprise idea and pitch it to a panel of successful Aberystwyth University alumni in a virtual 'Dragon's Den' style event.
The winning individual or team can invest the £10,000 prize in equipment, facilities or professional services to turn their invention or business start-up idea into reality. The competition is sponsored by contributions from the alumni AberFund.
In addition to the main prize on offer, the strongest application from the bio-sciences, life sciences and agriculture sectors will win a year's free office space at the Aberystwyth Innovation & Enterprise Campus.  A separate prize of £3,000, donated by Engineers in Business, is also available to students or student teams from Computer Science, Maths and Physics.
Professor Tim Woods, Pro Vice-Chancellor for Learning Teaching and Student Experience, said: "The University's annual InvEnterPrize competition encourages creativity, originality and entrepreneurship amongst our students and recent graduates. Shortlisted entrants get the chance to have their concept critically evaluated by successful business people, and once again this year we are grateful to five distinguished alumni for fulfilling the role of "Dragons". The competition culminates in an enterprising individual or team of entrepreneurial students securing a significant £10,000 investment in their idea, and the potential to launch a successful business venture."
Previous InvEnterPrize winners include online language-learning service Papora (2013), concept driverless delivery vehicle Car-Go (2017), and Amigrow, a venture designed to help Colombian farmers improve crop productivity using satellite technology and machine learning (2019). The 2020 winner was PlantSea, an eco-business using Welsh seaweed to create bioplastic.
University Careers Consultant and Entrepreneurship Champion, Tony Orme, who organises the competition, said: "InvEnterPrize is one of the biggest student enterprise competitions in the UK, and an exciting opportunity for business-minded Aber students and 2020 graduates.
"Applicants are offered an exciting opportunity to hone their business start-up skills through a series of workshops and presentations led by the University's 'AberPreneur' Network. The programme of events has moved online for the time being, and students who join the sessions are able to pick up tips about market research, marketing and branding, financial planning and control and intellectual property - all crucial skills when starting a business.
"In addition to start-up skills training, the University's Enterprise team in the Careers Service has partnered with Big Ideas Wales to offer free one-to-one start-up mentoring to any student or graduate looking to enter InvEnterPrize 2021."
The application deadline for InvEnterPrize is Monday 8 February 2021. To find out more visit the AberPreneurs online page.
Aberystwyth University offers a full programme of events to support entrepreneurial activity amongst students from all departments, as well as graduates and staff.
Ends
Links:
Aberystwyth University Careers Service https://www.aber.ac.uk/en/careers/
AberPreneurs – Turning Business Ideas into Reality https://www.aber.ac.uk/en/careers/starting-business/enterprise/
Further Information:
Louise Somerfield, Enterprise Administrator, Aberystwyth University
abpstaff@aber.ac.uk
Alice Earp, Communications and Public Affairs, Aberystwyth University
ale@aber.ac.uk