The Plans
The project to breathe new life into Old College will provide new cultural, learning, and enterprise facilities for the University, the local community and the wider region.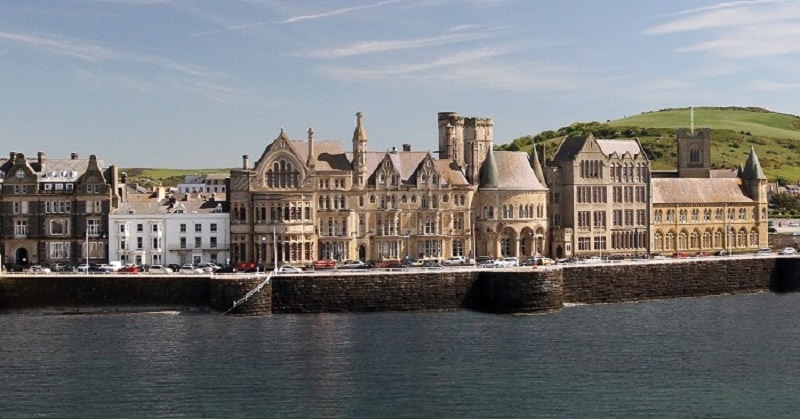 Image: The Old College and 1 and 2 New Promenade as it is today.
The proposed redevelopment will act as a catalyst for economic regeneration, creating up to 40 new jobs and attracting over 200,000 visitors every year.
The plans include the creation of a museum telling the story of the first University College of Wales, spaces for art and other exhibitions, a science and discovery centre, conference and debating facilities, and a 24-hour study space for students.
Working with project partners including National Museum Wales, Hay Festival, National Library of Wales and Ceredigion Museum, the University will showcase Welsh language and culture to international audiences and programme activities for families and schools.
The stunning wood-panelled Old Library will be used as a space for events and festivals as well as offer a wedding venue and the upper floors will offer high quality, four-star accommodation in 33 rooms.
Other features of the redevelopment include 12 new business units with European Regional Development Funding through the Welsh European Funding Office (WEFO), as well as artist studios, community facilities, a bistro-cafe and bar.
In a striking addition to the original plans for transforming Old College, heritage architects have also incorporated into the proposals the two adjoining Georgian villas owned by the University.
A six-storey atrium will be created above and behind 1 and 2 New Promenade, retaining the historic villas but providing contemporary lift and stairwell access to Old College as well as a rooftop function room with stunning sea views.
You can view the artist's impressions and detailed plans here.
History
Originally built as a hotel, Old College welcomed its first cohort of students in 1872 following a tremendous fundraising campaign across the country to help buy the building as the home of the first University College in Wales.
A Grade I listed building, Old College is recognised as one of the UK's most significant nineteenth-century buildings, in Gothic revival style.
The New Life for Old College project was granted development funding by the National Lottery of £850,000 in July 2017.
Detailed proposals will be considered by the Heritage Lottery Fund with a decision on the full funding award of £10.5 million expected to be made in autumn 2019.
You can also browse our selection of news stories charting recent developments and activities at Old College since the University started developing the plans: