Velkommen Norway
Hello! We look forward to helping you with any questions you might have about studying at Aberystwyth University and can be contacted with the following details.
Contact: Jackie Jarocki
Email: jaj64@aber.ac.uk
Entry Requirements
Entry Requirements

Undergraduate

Vitnemål For Videregående Opplæring - A 3.5 - 4 overall will satisfy entry requirements for most of our courses. There may be specific requirements depending on the intended subject of study.

International Baccalaureate (IB) Diploma requirements minimum of 30-32 with specific requirements for higher level depending on the intended subject of study.

Postgraduate

Generally, the minimum entry requirement for most taught Masters courses is a lower second class honours degree (2.2). However, some departments may require upper second class honours degrees (2.1) (e.g. Department of International Politics) or relevant work experience.

For specific requirements, please refer to the Postgraduate Admissions Office website.

English Requirement

Vitnemal, videregaende opplaring: 4.0 in written and spoken English

IELTS score of at least 6.0 - 7.5

If you require help or assistance with your English then our International English Centre will be pleased to offer assistance and guidance. The Centre offers an intensive full-time course available before you commence your degree and provides ongoing support throughout the duration of your studies.
Student Profiles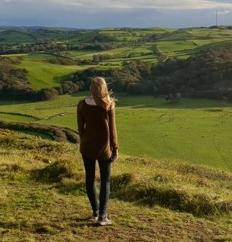 Helene Husebo
(BSc Psychology)
What do you love about Aberystwyth and Aberystwyth University?
I love the feeling of being part of a community both on and off campus. The town allows you to have an active social life outside of academic work with lots of activities available, and the university has setup a safe and supportive environment to learn and grow as a person.
What have you enjoyed most about your course?
I have truly enjoyed the variety of modules that I have been able to choose from that allows me to tailor my degree to my career goals. The lecturers are truly passionate about their subjects and are skilled at teaching, making the coursework exceptionally more interesting and fun to work with.
How did you find adjusting to life in Aberystwyth?
Settling into life in Aberystwyth was so seamless, much due to the wide variety in nationalities at the university and having others around me for support that were going through the same things as me in terms of homesickness or minor cultural confusions. Most students arriving in Aberystwyth have no prior relationships with other students, or very few, and are all looking to get to know new people which makes starting conversations with strangers easier and more common place than I am used to.
What advice would you give someone considering studying at Aberystwyth University?
Bring a camera, bring a smile, and bring an open mind. This is a place of beauty that you do not want to miss, filled with lovely people and a community that accepts you for who you are, regardless of nationality, religion or gender identity.
What is your favourite thing about the campus?
My favourite thing about campus is how absolutely stunning it is. After almost 2 years of studying here I still find new hidden gems where I can just relax and enjoy a sunny day or read a book. I also really enjoy that the university offers a variety of accommodation options at different costs depending on your budget and preferences.
Alumni Profiles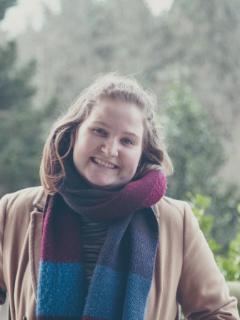 Nora May Engeseth
(BA International Politics)
Aberystwyth The location, the course itself, feeling like home, being able to live at the seafront, and the affordability of the course compared to other universities in Britain, while maintaining the same quality of teaching, were all factors that influenced my decision to come here. It was clearly a good decisions, as I have loved every second of it.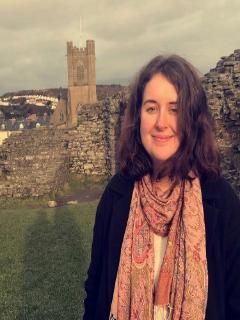 Benedicte Halvorsen
(BSc Business Management with Politics)
Aberystwyth University gave me unforgettable memories, friends for the rest of my life, and a wonderful start to my professional life. The professors showed genuine interest in their students' futures and passion for their subjects in both the departments I belonged to. The barbecue, the beaches and the nature all makes Aber a perfect place to study.
After finishing my studies in Aberystwyth, I got accepted into the London School of Economics to read for an MSc in Strategic Communications. I finished my MSc in 2019, and moved to the arctic circle to work as a sales and marketing coordinator for Norwegian football club FK Bodø/Glimt - who this year won the league. Aber gave me the space to grow and learn in beautiful surroundings to make this start to my career possible.