Dr Jamie Medhurst
BA (Hons), MLib, PhD, FRHistS, FHEA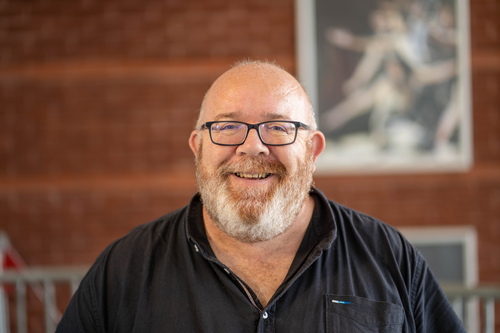 Reader in Film,Television and Media
Head of Department
Head of Department (Theatre, Film & Television Studies)
Contact Details
Profile
I have been a member of staff in the Department since 1996 (Lecturer, Senior Lecturer and now Reader in Film, Television and Media and Acting Head of Department until 31 January 2019) and have taken on various administrative and managerial roles during my time in Aberystwyth: Deputy Dean of the Faculty of Arts (2005-2008), Departmental Director of Learning and Teaching (2007-2010) and Head of Department (January 2011 - July 2014). I'm married to Ceris, the Institute PG/Research Portfolio Manager, and we have two daughters - Alice and Lucie - and a son, Henry. Outside of work I enjoy rugby (watching, more than playing these days!), following the ups and downs of Tottenham Hotspur FC, spending time with the children, and playing the organ at St Michael's Church in Aberystwyth.
Additional Information
I am a Fellow of the Royal Historical Society and of the Higher Education Academy and am an external examiner at the University of Stirling (MSc Media Management), Edge Hill University (BA Film, Television and Media) and Chief External Examiner in the Arts and Creative Industries at the University of the West of England.
I have reviewed papers for Contemporary Wales, Critical Studies in Television, Media History and Twentieth Century British History together with book proposals for Routledge, Sage Publications and Palgrave-Macmillan. I am an Honorary Associate of the Centre for Media History, Maquarie University, Australia and a member of the Institute of Welsh Affairs Media Policy Group. I am a member of the National Library of Wales' Broadcast Archive Expert Advisory Board and the BBC Connected Histories Advisory Board .
Teaching
Module Coordinator
Lecturer
Research
Broadcasting history (especially early television in the 1920s and 1930s and television developments in the 1950s and 1960s); media history and historiography; television archives; television and society in Wales in the 1970s.
External Research Grants/Awards:
Arts and Humanities Research Council (£23,230), September 2008-January 2009 - research leave to complete a book (A History of Independent Television in Wales, 1956-1968).
British Academy Small Research Grant (£3117), November 2008-August 2009 - 'The Early Years of Television and the BBC, 1923-1939'.
British Academy Overseas Conference Grant (£200), 'Television: the experimental moment 1935-1955', University of Paris 8, 27-29 May 2009.
Arts and Humanities Research Council (£33,000), February 2010-January 2012 - international research network on broadcasting history.
Leverhulme Trust Research Project Grant (£113,813), September 2016-August 2019 - Television and Society in Wales in the 1970s
MPhil/PhD
supervision and examining
I have supervised - and am supervising - a number of MPhil and PhD students. I have examined a number of PhD theses in areas including public service broadcasting, Welsh language journalism, local radio in England, representations of Wales in documentary and interactive television drama. I would be interested to hear from any potential research students wishing to explore any aspect of media history/policy or issues surrounding media and national identity.
I am Research Leader for the Media Industries and Institutions cluster in the Department
Responsibilities
Acting Head of Department
Co-Director of the University's Centre for Media History
Research Leader, Media Industries and Institutions Group
Lead Editor, Media History
Office Hours (Student Contact Times)
Wednesday 12.00-13.00
Friday 12.00-13.00
Publications