Judit Bodor
Exhibiting The Ivor Davies Archive of Destruction (in) Art: an exploration of the curatorial agency in presenting historical performance art in the Museum
Supervisors: Professor Heike Roms, Dr Jacqueline Yallop, and Nicholas Thornton (Head of Modern & Contemporary Art AC-NMW)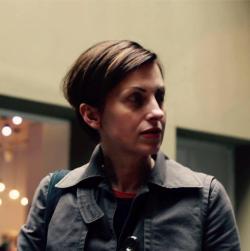 AHRC-funded collaborative doctoral research with National Museum Cardiff based at Aberystwyth University supervised by Prof Heike Roms (Theatre, Film and Television Studies) and Dr Jacqueline Yallop (English and Creative Writing) from Aberystwyth University and Nicholas Thornton (Head of Modern & Contemporary Art AC-NMW).
This practice-led enquiry investigates the 'extended life of performance' (Allsopp 2006) art in the context of a Museum exhibition through the development of 'Silent Explosion: Ivor Davies and Destruction in Art' at National Museum Wales, Cardiff. It combines the analysis of theories and practices in Performance, Media and Curatorial Studies with curating-as-research to explore specifically how the curatorial approach, the intention of the artist and the institutional set up together produce a temporary space-time framework through which Davies' little known 1960s performance works can survive and be experienced in the present.
The research is developed through the application of different curatorial approaches to exhibiting performance archives. Key outputs include the exhibition of Ivor Davies' archive of the 1966 Destruction in Art Symposium and the presentation of the 1968 multimedia performance, 'Adam on St Agnes' Eve', in two formats: as multimedia installation and as a new commission for performance 'in miniature'. The research is disseminated and discussed in public through the conversation series 'Exhibition Matters: Presenting, preserving and interpreting historical performance in the Museum' (February-March 2016 at National Museum Wales, Cardiff).
Biography
Judit Bodor is an independent curator, producer and researcher based in Glasgow, Scotland. She works with archives, galleries, museums and universities and has held positions with Artpool (Budapest), East Street Arts (Leeds), Dartington College of Arts and York St John University. Her areas of expertise include artists' archives, collaborative practice, event-based curating, commissions and residencies. Recent projects include Studio Jamming with Ganghut (2014), Three Points of Contact (GSA Exhibitions and The Exchange 2014) and Market of Hidden Labours with John Newling (2013). A trained art historian and arts manager, she has degrees from Eötvös Loránd University and Dartington College of Arts. She is currently Associate Tutor at the MFA Fine Art at Cardiff College of Art and Design and AHRC-funded doctoral researcher at National Museum Wales for Aberystwyth University.
Judit can be contacted at jub21@aber.ac.uk