Aberystwyth Printmakers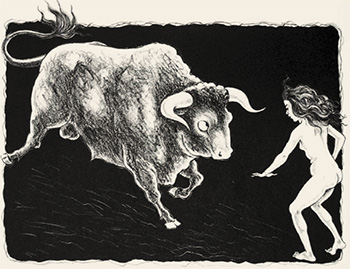 26 November 2012 – 8 February 2013
(Closed: 24 December – 4 January)

Works by:
Andrew Baldwin, Jessica Baudey, Paul Croft, Christine Clinch, Edwina Ellis, Ruth Jên Evans, Stuart Evans, Rosemary Fahimi, Faith Flower, Susanne Frey, Kim James-Williams, John Jones, Mary Lloyd Jones, Alison Lochhead, Judy Macklin, Caroline Maddison, Jackie Merry, Jennie Mynett, Viv Mullet, Ruth Packham, Ben Partridge, Sarah Poland, John Reading, Helen Rowlands, Judith Stroud, Alan Turner & Gini Wade.
Aberystwyth Printmakers was set up in 2004 by a group of artists who use a range of printmaking techniques including etching, lithography, screenprinting, wood engraving, woodcut, and linocut.
The principle aim of the group is to promote printmaking through exhibitions, talks, demonstrations and the provision of printmaking facilities for members. The workshop is set up with presses and equipment for intaglio (etching) and relief printing. Members include beginners, students, and well-known professional printmakers.
Membership costs £20 p.a. For more information and contact details please visit our website: