Joseph Herman (1911-2000) Centenary Exhibition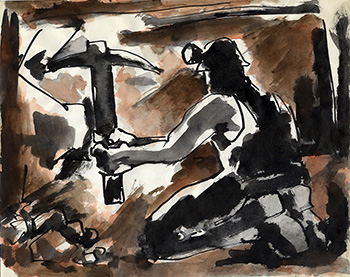 Joseph Herman (b. Warsaw 1911 - d. London 2000)
Exhibition from the Boundary Gallery, London.

This exhibition of Herman's work focuses on the subject for which he is best remembered - depictions of Welsh miners. These works were developed during the eleven years (1944-1955) the artist spent in the mining town of Ystradgynlais. Here he began to produce images of miners as enduring, monumental figures and this dedication to portraying people at work stayed with him thoroughout his career. In 1951 he was commissioned to produce a mural for the Festival of Britain - Miners - which depicted six men resting above ground after their work and established his reputation as an artist in the UK.

Herman had major retrospectives at the Whitechapel Gallery (1956) and at Camden Arts Centre (1980) and regular exhibitions at the Boundary Gallery which championed his work. Many of the pieces in this exhibition have not been seen in public before.