Dr Helen Miles
BSc, PhD, FHEA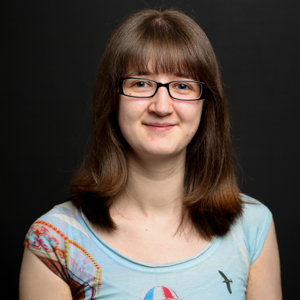 Associate Lecturer
Contact Details
Profile
Helen's research is in the field of computer graphics and virtual environments. She has a BSc (2010) and PhD (2014) in Computer Science from Bangor University. She moved to Aberystwyth in 2014 to work as PDRA on the HeritageTogether project, collecting 3D digital recordings of neolithic archeology sites in Wales. In 2015 she became a lecturer for the department. Since 2016, Helen has been working as part of Aberystwyth University's ExoMars team, simulating images from the perspective of the PanCam instrument led by UCL/MSSL.
Helen is very interested in engaging with the public and communicating science, helping to plan and run outreach activities that aim to spark an interest in science and computer science. She helps run the Aberystwyth Robotic Club, leading the advanced group, and co-leads development of Barnes the full-scale model of the ExoMars rover.
Helen is a member of the BCS, and is on the committees for BCSWomen and BCS Mid Wales. In 2017, Helen became chair of the BCSWomen Lovelace Colloquium, an annual conference for undergraduate women in computing.
Teaching
Module Coordinator
Lecturer
Additional Lecturer
Research
Computer graphics
Virtual environments
Virtual reality
Applied computer graphics
Data visualisation
Virtual reconstruction
Responsibilities
Computer Science Employability Coordinator (2016-18)
Computer Science Head of Admissions and Recruitment (2017+)
Research Groups
Publications
Automatic radiometric correction of PanCam images
Ladegaard, A. C.
,
Gunn, M.
&
Miles, H.
,
2018
.
Simulating the visual output of PanCam
Miles, H.
&
Gunn, M.
,
2018
.
RAVEN: A Concept for VR
Miles, H.
,
Gunn, M.
, Cousins, C., Leff, C., Gupta, S., Ortner, T., Traxler, C. & Paar, G.,
2018
.
Immersive Analytics and Deep Maps – the Next Big Thing for Cultural Heritage & Archaeology
Roberts, J., Mearman, J., Ritsos, P.,
Miles, H.
, Wilson, A., Perkins, D., Jackson, J.,
Tiddeman, B.
,
Labrosse, F.
, Edwards, B. & Karl, R.,
2016
.
Historical records, archives, and photogrammetry
Wilson, A.,
Miles, H.
,
Labrosse, F.
,
Tiddeman, B.
& Roberts, J.,
2016
,
In :

The Historic Environment: Policy & Practice.
7
,
1
,
p. 25-42
17 p.
More publications on the Research Portal