Prof Peter Merriman
BA and PhD degrees, School of Geography at the University of Nottingham Certificate in Further Professional Studies in Higher Education, The University of Reading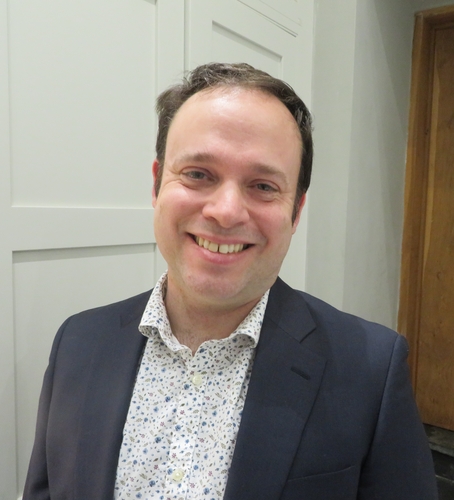 Profile
Professor Peter Merriman is a cultural and historical geographer whose interdisciplinary research focuses on mobility, port histories and heritage, theories of space and place, nationalism and national identity, and 20th Century Wales. He is one of the world's leading scholars in mobility studies and is the Aberystwyth lead on the ERDF funded project "Ports past and present" (2019-2023).
Pete completed his BA and PhD degrees in the School of Geography at the University of Nottingham, and he was a Lecturer at The University of Reading from 2000 to 2005. Pete joined the Department as a Lecturer in July 2005, and was promoted to Senior Lecturer in 2008, Reader in 2012, and a Personal Chair in 2014. Pete is a member of the AHRC Peer Review College, UKRI FLF Peer Review College and the ESF College of Expert Reviewers, as well as being a Fellow of the HEA, Book Reviews Editor of 'cultural geographies' and Associate Editor of 'Transfers''. He also sits on the editorial boards of 'Mobilities', 'Applied Mobilities', 'Mobility Humanities' and two book series. He has previously served as a member of the Management Group of the ESRC Wales Doctoral Training Centre.
Responsibilities: * Head of the Cultural and Historical Geography Research Group * Member of the DGES Research Committee
Teaching
Module Coordinator
Coordinator
Lecturer
Grader
Areas of PhD supervision:
Cultural and historical geography
Mobility and transport
Port histories and heritage
Space and social theory
Cultures of landscape
National Identity and Nationalism
Twentieth century Britain
Welsh cultural history
Current PhD Students:
Nina Sharp
Lowri Ponsford
Prididome Pipatchukiat
Flossie Baldock
Research
Mobility
My main research interest is in mobility and the history and geographies of driving. In addition to publsihing two monographs in this area ('Driving spaces: a cultural-historical geography of England's M1 motorway' (Blackwell Publishing, 2007) and 'Mobility, Space and Culture' (Routledge, 2012)), I have co-edited 'Geographies of Mobilities: Practices, Spaces, Subjects' (Ashgate, 2011), 'The Routledge Handbook of Mobilities' (2014), and 'Mobility and the humanities' (Routledge, 2018, Korean translation 2019). I am currently completing a co-edited volume on empire and mobility for the 'Studies in imperialism' series with MUP. I am an Associate Editor of 'Transfers: Interdisciplinary Journal of Mobility Studies', a member of the editorial boards of 'Mobilities' and 'Applied Mobilities'. From 2015 to 2017 I authored the annual progress reports on mobilities for 'Progress in Human Geography'.
Port Heritage, Tourism and Place
I am AU Principal Investigator on the ERDF-funded 'Ports Past and Present' project (funded through the Ireland-Wales programme), working with Rhys A. Jones, the lead partner Claire Connolly and colleagues at University College Cork, and two other partners, UWTSD and Wexford County Council. This €3.2 million project will work with tourism stakeholders and local communities to make tourists aware of the deep history of 5 major Irish and Welsh ferry ports and the history of journeys through them. Creative works in the visual arts, literature and film will be commissioned to bring these histories to life, while digital technology will be deployed to engage new audiences in the heritage of these ports. Work with local authorities and tourism operators will seek to develop new tourism activities, while a joint Irish and Welsh tourism network will be established to assist in developing economic growth in these ports.
Theories of Space and Place
Over the past five years I have been working on a number of publications which seek to advance contemporary theories of landscape, space and place in the social sciences and humanities. I edited a four-volume major reference work on 'Space' in the 'Critical Concepts in Geography Series (Routledge, 2016) and am currently writing a book on 'Space' for Routledge's 'Key ideas in Geography' Series.
Nationalism and National Identity
Over the past ten years I have been undertaking research with my colleague Rhys A. Jones on theoretical approaches to the nation, nationalism and national identity, focussing on banal and everyday nationalism, and ideas of nationalism and affect.
Research Groups
Publications
Merriman, P
, Adey, P, Holdsworth, C, Lorimer, H, Schwanen, T, Stratford, E & Bissell, D 2020, '
Book review forum: Transit Life: How Commuting is Transforming Our Cities
',
Cultural Geographies
, vol. 27, no. 1, pp. 163-174.
https://doi.org/10.1177/1474474019871658
Antonsich, M, Skey, M, Sumartojo, S
, Merriman, P
, Closs Stephens, A, Tolia-Kelly, D, Wilson, H & Anderson, B 2020, '
The spaces and politics of affective nationalism
',
Environment and Planning C: Politics and Space
.
https://doi.org/10.1177/2399654420912445
Lambert, D
& Merriman, P
(eds) 2019,
Empire and Mobility in the Long Nineteenth Century
. Studies in Imperialism, Manchester University Press.
Merriman, P
& Lambert, D 2019,
Empire and mobility: An Introduction
. in P Merriman & D Lambert (eds),
Empire and Mobility in the Long Nineteenth Century.
Studies in Imperialism, Manchester University Press.
More publications on the Research Portal