Aber wins at the Times Higher Awards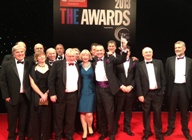 Members of the IBERS team celebrate at the 2013 Times Higher Education Awards
Aberystwyth University's Institute of Biological, Environmental and Rural Sciences (IBERS) has won the Outstanding Contribution to Innovation and Technology categoryaward at the Times Higher Education Awards.
Aberystwyth University is also a member of Welsh Crucible which won the award for the Outstanding Contribution to Leadership Development.
The glittering awards ceremony held on Thursday 28 November at the Grosvenor House Hotel, Park Lane, London was attended by over 1,000 guests including government ministers and academic and university staff from across the sector.
The Awards represent a unique and high-profile opportunity to celebrate the excellence and achievements of UK Higher Education Institutions, and the two core pursuits of higher education: teaching and research.
Aberystwyth University's winning entry focuses on the breeding and development of High Sugar Grasses (AberHSG) by scientists at IBERS.
IBERS has a long standing international reputation for excellence in plant breeding, and is home to the BBSRC supported National Plant Phenomics Centre.
AberHSG have the potential to transform pastoral based livestock agriculture. Independent tests have demonstrated that AberHSG can increase the production of meat and milk by up to 24% and reduce methane emissions and nitrogenous pollutants by up to 20%.
ASDA and Sainsbury's promote the use of AberHSG on their farms, estimating a reduction of 186,000 tonnes of carbon dioxide per year, whilst raising profit by more than £10m per annum.
AberHSG varieties are marketed through a strategic public-private partnership with Germinal Holdings, the UK and Ireland's largest forage seed company.
The AberHSG varieties of perennial ryegrass also provide a source of sugar for conversion into bio-ethanol, providing an opportunity to develop a crop derived liquid transport fuel and reduce our dependency on fossil fuel.
Commenting on the award win, Professor April McMahon, Aberystwyth University's Vice-Chancellor, said; "We are delighted to have won this prestigious award, especially in an area showcasing the world-renowned expertise of IBERS. We are particularly proud to be recognised as industry leaders, supporting our position as one of the top 40 UK research universities. We look forward to strengthening our research excellence further as we progress our exciting plans for the Aberystwyth Innovation and Diffusion Campus, where science, innovation and technology will have an unprecedented opportunity to develop together."
The University is unique within the UK Higher Education sector in possessing commercially successful plant breeding programmes that generate products in the form of new varieties that are marketed within the UK and overseas.
Professor Wayne Powell, Director of IBERS said; "The development of new plant varieties at Aberystwyth University requires a focus on teamwork and long term, mission driven research and the achievement of the team here today builds on the heritage of our predecessors in the Welsh Plant Breeding Station, and the Institute of Grassland and Environmental Research.
The development of Aber High Sugar Grasses is an excellent example of how academic research expertise can work effectively in partnership with commercial enterprise to deliver economic impact, support climate change mitigation and a diversified farming industry that could contribute significantly to the social and economic regeneration of rural communities."
Dr Athole Marshall, Head of the Public Good Plant Breeding Team at IBERS said; "The breeding of improved plant varieties is a delivery mechanism by which the results of basic and applied research at IBERS can be used by agriculture. The development of AberHSG varieties is the product of the innovation and foresight of the grass breeding team at IBERS and its predecessors and demonstrates the value of the close collaboration between plant and animal scientists within the Institute".
AU33313