Quantified romantics: Pioneering technology that tells us (and others) how much we truly 'feel'…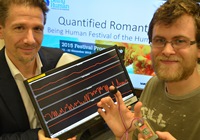 Preparing to measure whether 200-year-old Gothic shockers really do raise pulses are (left) Professor Richard Marggraf Turley from the Department of English and Creative Writing, and Computer Science research student Tom Blanchard.
On Saturday the 14th of November at Aberystwyth Museum there is a chance to view projected images of gothic paintings and pages from Romantic novels while biometric data are collected with 'smart' wristbands. The event includes talks on gothic art and literature and on the technology at the heart of today's smart watches and fitness trackers.
Byron might have loved it, Sir Walter Scott been amused and JMW Turner intrigued.
It's all very well writing high-flown poetry and prose, and painting luminously evocative scenes, but what effect are they having on the dear reader or viewer?
Now, as a result of a creative collaboration that would have impressed them all, two Aberystwyth University professors have brought the Romantic Movement and 21st century computer science together to discover just that.
'Quantified Romantics' is an experiment that just might have huge implications for everything from the advertising industry to fashion and Facebook.
As part of the national 'Being Human' festival, on November 14th Romanticist Richard Marggraf Turley and computer scientist Reyer Zwiggelaar are conducting an intriguing public engagement event.
In a specially designed and darkened enclosure dubbed 'The Vortex', members of the public will be invited to view projected images of gothic paintings and pages from Romantic novels while biometric data are collected with specially designed 'smart' wristbands. That way the pair hope to detect just how 'moving' such images and words really are for a contemporary audience.
Explains Marggraf Turley: 'The aim is to explore some of the most intriguing aspects of what it means to be human in the modern world. Do gothic novels really stir the pulse, as their Romantic authors claimed? Can paintings of yawning chasms, nightmarish creatures, ruined abbeys in dark forests and rocky precipices actually cause measurable chills of terror? Such images and impressions are, in a way, timeless and provide a clue to our innate sensitivity to certain emotional triggers and stimuli.'
The project began six years ago when Marggraf Turley and Zwiggelaar began exploring thermal imaging as a means of assessing and quantifying one's emotional response, especially through the medium of literature and poetry.
Things moved on, to smart wristbands. A complex system of sensors monitor movement, heart-beat, temperature and also the quality and moment-by-moment condition of the skin.
As Zwiggelaar points out, the project illustrates not only the interface between art and science but also how such cross-subject symbiosis may have intriguing consequences.
'We are living in an emotionally supercharged world where people are constantly being exposed to challenging and emotive stimuli through all sorts of media, from social to film and music. At the same time many of us are also happy to share and reveal our feelings and emotions in a way that was not only impossible before the advent of Facebook and Twitter, but wasn't really acceptable. How much of this is authentic? We live and move in a world of illusion, but perhaps also of delusion. We are showing how the use of certain technologies can reveal our true responses and feelings, sometimes even to ourselves.'
But Zwiggelaar has no doubts as to the technology's power. 'Through public engagement events such as this, by gauging people's responses to Romantic images, we can develop our technology in a real situation.
'The truth is that we as humans are very predictable – it is amazing how predictable we are. So, for example, with Facebook when someone says how they are feeling about themselves or someone else, if you had a device that showed how they were really feeling then that might be interesting. More obviously it would have implications within the fashion or advertising worlds where businesses and designers could gauge the impact of their products.'
Adds Marggraf Turley: 'The event also raises compelling questions about our susceptibility to direct and remote sensing. Do we really want to be so transparent to corporations and advertisers? Are we comfortable with allowing biometric measuring devices into that most private of realms - that of the senses?
'Biometrics offers genuine value, and for those who wish to "improve" themselves, the wide availability of self-tracking technology is a boon. But there is a darker side, a world of continual panoptic and lateral surveillance. We'll be discussing all these most timely of issues at our "Quantified Romantics" event.'
Quantified Romantics takes place between 11:00am and 3:00pm on Saturday 14 November at Ceredigion Museum, Terrace Road, Aberystwyth, Ceredigion, SY23 2AQ. For further information about the event, contact museum@ceredigion.gov.uk.
Quantified Romantics is part of the Being Human Festival, the UK's first national festival of the humanities which runs from 12 – 22 November 2015, and is supported by the Arts & Humanities Research Council (AHRC) and the British Academy (BA), with support from the Wellcome Trust.
AU18915