Selamat Datang, warga Malaysia!
Hi, my name is Maryann and I am the South-East Asia Manager in charge of Malaysia. If you have any queries about studying or living in Aberystwyth, I would love to hear from you. I can be contacted using the details below:
Contact: Maryann Vargis
Phone: +60 169 802 770 (WhatsApp / Telegram / Signal / Line / Viber)
Email: mav24@aber.ac.uk
Skype: Maryann.Vargis
Entry Requirements
Entry Requirements

Undergraduate

Sijil Tinggi Persekolahan Malaysia (Malaysia Higher School Certificate) with a minimum GPA 3.0 or grade B
Matrikulasi (Matriculation Certificate) with a minimum GPA 3.0 or grade B
Unified Examination Certificate (UEC) Senior Middle Level with B grades in at least five subjects
Successful completion of MQA Foundation Certificate. Applicants with an MQA Diploma may be considered for an alternative year of entry
Students who have completed Sijil Pelajaran Malaysia (SPM) with a minimum C in 5 subjects may apply to the one-year International Foundation Programme at Aberystwyth University
GCE A levels / Matriculation Certificate (or equivalent). Offers can vary depending on the course but are typically in the range of 104 – 128 UCAS tariff points
Applicants with a recognised International Foundation Year will also be considered

Postgraduate

| UK degree classification | cGPA | Percentage % |
| --- | --- | --- |
| First class honours | 3.75 | 82% |
| Upper-second class honours | 3.25 | 77.80% |
| Lower-second class honours | 3.08 | 70% |

Please note each course may require specific entry grades from the qualifications highlighted above. Some courses may also require an additional portfolio or interview.

English Requirement

You will be required to demonstrate English proficiency at the following levels:

Malaysia SPM – Advanced English 1119 (Cambridge O Level 1119) – Minimum C
Undergraduate – IELTS 6.0 – 6.5, with a minimum of 5.5 in each component
Postgraduate – IELTS 6.0 – 7.5, with a minimum of 6.0 in each component

*Terms and conditions apply. Contact malstaff@aber.ac.uk to find out more.

The above requirements are dependent on the department as well as the course of your choice. See other acceptable proficiency tests.

All non-UK students from countries where English is not the first language are required to show evidence of sufficient knowledge of English - your level of proficiency in English must be proved before you begin your course. If you have not achieved the required level prior to the receipt of the acceptance for admission, the formal offer will include a condition that you will need to attain essential knowledge before the start of your course.
Student Profile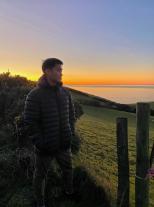 Ringkai Pati, studies LLM Law.
The best things about the University
The University is surrounded by nature and I call the nature element as "Therapy for Study" because it indeed is! That was the very first impression and still is until this very moment.
Other best things that I personally feel and experience is especially being able to meet and make friends with a lot of other students from many countries.
It is exciting to hear not only different accents, but also different cultures that we learn from each other here.
Also, I truly appreciate the facilities the Uni offers such as Sports Centre for numerous sport activities like gym, wall climbing, swimming, football and more.
Favourite thing about living in Aberystwyth
The locals are very friendly and warm.
Also, the town is clean, well organized and beautiful.
Aberystwyth has nice seafront for a walk, run, having hot drinks at the cafes and to watch the sunset whilst looking at and listening to the seagulls.
What advice would you give to other students coming from the same country?
However, if I were to share my little experience throughout my 4 months of studying and living here now, Aberystwyth and UK as a whole, is completely a different country than Malaysia in term of the culture, language(Welsh is widely used here alongside/as much as English).
However, it is always an opportunity to discover many things to add to our knowledge and understanding about life generally.
Know the main purpose of coming here, and that is to study. Thus, set the mind for that goal.
Weather can be challenging but the fact is, the longer we stay in one place, the better we adapt to the environment and in this case, the climate.
Agents
IDP International Education Specialist
6th Floor (West Block),
Wisma Golden Eagle Realty,
142-C, Jalan Ampang
50450 Kuala Lumpur
Email: info.kualalumpur@idp.com
Tel: +60327879786
Website: www.idp.com/malaysia
Offices in Subang Jaya, Johor Bahru, Penang, Kuching and Kota Kinabalu. Please visit website for complete contact.
Intake Education
Unit No. S-1-24, First Floor City Mall, Lorong City Mall Jalan Lintas 88300 Kota Kinabalu, Sabah Malaysia

Email: kota.kinabalu@intake.education
Tel: +6014 552 2727
Website: https://intake.education/my
Office in Kuching. Please visit website for complete contact.
JM Education Group
36, Jalan SS 15/8
47500 Subang Jaya
Selangor
Email: inquirydata@jmecc.com
Tel: +6017 2682 812
Website: jmeducationgroup.com
Offices in Petaling Jaya, Sri Hartamas, Cheras, Penang, Ipoh, Johor Bahru, Skudai and Kota Kinabalu. Please visit website for complete contact.
PDVL Malaysia
3 Towers, 349 Jalan Ampang
Kampung Berembang
55000 Kuala Lumpur
Email: kl@pd-vl.com
Website: pd-vl.com/
Offices in Penang, Lukut, Sibu and Kota Kinabalu. Please visit webiste for complete contact.
MABECS
B-7-3 Block B West, PJ8
No 23, Jalan Barat, Seksyen 8
46050 Petaling Jaya
Selangor
Email: enquiries@mabecs.com
Tel: +603 7956 7655
Website: www.mabecs.com
Offices in Kota Kinabalu. Please visit website for complete contact.
UKEC
7B, Nadayu 28 Dagang
Jalan PJS 11/7
Bandar Sunway
47500 Subang Jaya
Selangor
Email: malaysia@ukec.com
Tel: +603 5612 7213
Website: my.ukec.com
Study International
1- 12A,3A SUNTECH @Penang Cybercity
Lintang Mayang Pasir 3
11950 Bayan Baru
Pulau Pinang
Email: simone@studyinternational.com.my
Tel: +604 645 8585
Website: www.studyinternational.com.my
EMS Management Center
11- 2A, Plaza Citra,
Jalan Citra,
43000 Kajang
Selangor
Email: jeya@emsmc.com
Tel: +6016 869 4758
SEA Education Consultants
Arcc Offices,
PH 27th Floor,
Centerpoint South, Mid Valley
56200 Kuala Lumpur
Email: ching@seaeducation.co.uk
Tel: +603 2096 9682
Website: www.seaeducation.co.uk
SI-UK Malaysia
Unit 43-G, Block D
Zenith Corporate Park
Jalan SS7/ 26, Kelana Jaya
Petaling Jaya
Selangor
Email: malaysia@studyin-uk.com
Tel: +603 7886 1936
Website: www.studyin-uk.com/contact/global-offices/malaysia/
GEN Education Malaysia
Unit 16.03, 16th Floor
Wisma MCA, 163
Jalan Ampang
50450 Kuala Lumpur
Email: kl@gen-education.com
Tel: +603 2161 5875
Website: www.gen-education.com
Unied Smart Study Centre Sdn Bhd (AUG)
No. 8, Jalan SS15/8, 47500 Subang Jaya,
Selangor, Malaysia
Email: ukeducation@augstudy.com
Website: www.augstudy.com
Telephone: +603 5634 3767
Liu Cheng International Group
Room 418, Level 3A, Sunway Visio Tower, Lingkaran SV, Sunway Velocity, Kuala Lumpur 55100
Email: hezuo@51liucheng.com
Tel: ..60-182220999
Website: www.liucheng.group/en/group/lcintl.html