Kumusta, Philippines!
Hi, my name is Maryann and I am the South-East Asia Manager in charge of Indonesia. If you have any queries about studying or living in Aberystwyth, I would love to hear from you. I can be contacted using the details below:
Contact: Maryann Vargis
Phone: +60 169 802 770 (WhatsApp / Telegram / Signal / Line / Viber)
Email: mav24@aber.ac.uk
Skype: Maryann.Vargis
Entry Requirements
Entry Requirements

Undergraduate

GCE A levels / Matriculation Certificate (or equivalent). Offers can vary depending on the course but are typically in the range of 104 - 128 UCAS tariff points;
First Year Entry:

2 years bachelor degree from recognised Philippines institute (Min 75%);

Completion of 2 year associate degree (min 80%).


Advance Entry:


Good grades (GPA 2.6) onwards from 3 years bachelor's degree;
Graduate certificate with good grades.

Applicants with a recognised International Foundation Year will also be considered.

Postgraduate

Bachelor Degree (4 year) 75% from:

Asian Institute of Management;
Ateneo de Manila University;
De La Salle University;
University of Santo Tomas;
University of the Philippines;
Masters Degree (75%) min from other institutions.

Please note each course may require specific entry grades from the qualifications highlighted above. Some courses may also require an additional portfolio or interview.

English Requirement

You will be required to demonstrate English proficiency at the following levels:

Undergraduate: IELTS 6.0 – 6.5, with a minimum of 5.5 in each component;
Postgraduate: IELTS 6.0 – 7.5, with a minimum of 6.0 in each component;
Password English Test
Aberystwyth University is pleased to be working with Password to offer an online English test for FREE*

*Terms and conditions apply. Contact malstaff@aber.ac.uk to find out more.

The above requirements are dependent on the department as well as the course of your choice. See other acceptable proficiency tests.

All non-UK students from countries where English is not the first language are required to show evidence of sufficient knowledge of English - your level of proficiency in English must be proved before you begin your course. If you have not achieved the required level prior to the receipt of the acceptance for admission, the formal offer will include a condition that you will need to attain essential knowledge before the start of your course.
Scholarships
Level of Study
Award
Value

Undergraduate

Worth up to £2,000 a year plus an unconditional offer.

Cost of your housing is included in your tuition fees, either totally free or discounted by £2,000.

Postgraduate (Taught)

Up to 20% discount on tuition fees.

Cost of your housing is included in your tuition fees, either totally free or discounted by £2,000.
For further information please see our Fees & Scholarships page or contact the International Office on international@aber.ac.uk
Student Profiles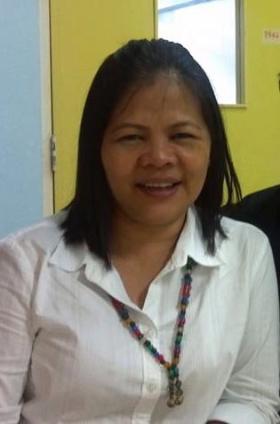 Jazmin Llana
Jazmin completed her PhD at Aber's department of Theatre, Film and Television Studies in March 2010. In addition to her successful academic and creative career, Jazmin acts as Aber's unofficial ambassador in the Philippines and is willing to help any Aber alumnus visiting or working in that country.
What do you remember most about your time at Aber?
The place is beautiful and very conducive to study and thinking and reading. I remember the silence and the sound of the waves close to where I lived on the seafront. I remember the isolation of Aber, how it took so long to get there or to travel to the big cities; I have strong memories of traveling on the train or bus and seeing the poster-perfect countryside; this was what I wanted at the outset - I did not want to be in London or another big city, and the distance certainly did not prevent me from traveling to conferences elsewhere in the UK or other parts of the world. Most of all I remember the people: the friendly locals manning the shops in town and the ever helpful staff of the university. I made friends with staff and other students, some of whom became almost like family to me. Also, I will never forget that my supervisor and the university student support office helped me with my flight expenses for an emergency trip going home in time to attend my father's funeral.
What are you doing now career-wise and how has your Aberystwyth degree helped?
I am an Associate Professor of drama, theatre, and performance and serving as Chair of the Department of Literature at De La Salle University-Manila in the Philippines. Outside of my main job, I am part of an arts network in the country in the fields of theatre and performance and literary arts. I served as Chair of the National Committee on Dramatic Arts of the [Philippine] National Commission for Culture and the Arts for 2013-2016. I also continue to be active internationally. I currently serve in the Board of Directors of Performance Studies international (PSi) as its Membership Officer. My Aberystwyth degree has helped a lot, especially because I worked with the best supervisory team one could wish for and because my department (Theatre, Film and Television Studies) is very well placed in my field, with many members of staff who work internationally.
What advice do you have for a student doing your course now?
Participate. Get involved. Make friends. Know what the university has to offer and make the most of them for your study and also for your personal and career development. Set your goal, stay focused, but also do not forget to enjoy your stay in Aber. There is a vibrant arts community with various events going on all the time. Also, explore the area, take walks, visit nearby villages and towns. But, also, build your network in and outside of the university. Go to conferences. Present your work. Publish. Most important of all, don't be afraid to explore or test new ideas. I certainly wish I could have done all these or more myself when I was a student.
Agents
AECC Philippines
Address: 2nd Floor, Piazza Sorrento Bldg. 13th St corner, Lacson St. Bacolod City, 6100
Tel: +63 906 282 7952
Website: www.aeccglobal.com.ph
(Offices in Cebu, Davao, General Santos, Makati. Please visit website for complete contact)
AUG Philippines
Address: Bldg. 416, Ground Floor, E-Square, 1500 Ortigas Ave, San Juan, Metro Manila, Philippines
Tel: +63 286 558 800
Email: manila@augstudy.com
Website: www.augstudy.com/Philippines
IDP Philippines
Address: 16/F, Marco Polo Ortigas Sapphire Road, Ortigas Business Center, Pasig City
Tel: +63 919 0805349
Website: www.idp.com/philippines
INTAKE Education
Address: Unit 301, GV Corporate Plaza 150, Legaspi Street Makati City, Philippines 1229
Tel: +63 995 1913082
Email: manila@intake.education
Website: www.intake.education
SI-UK Manila
Address: SI-UK Manila, UG 36, Alfaro Place, 146 LP, Leviste Street, Salcedo Village, Makati City, 1227, Manila, Philippines
Tel: +63 920 951 9657
Email: manila@studyin-uk.com
Website: www.studyin-uk.com.ph