Welcome Seychelles
If you have any questions about applying to, studying at, or living in Aberystwyth, please contact the regional officer for your country:
Contact: Jack Coates
Email: jac136@aber.ac.uk
Phone: +44 (0) 1970 621892
Entry Requirements
Entry Requirements

Undergraduate

GCE A levels (or equivalent). Offers can vary depending on the course but are typically in the range of 104 - 128 UCAS tariff points. Applicants with a recognised International Foundation Year will also be considered.

IB score of between 26-30.

Postgraduate

Generally, the minimum entry requirement for most taught masters courses is the equivalent (see below) of a lower second class honours degree (2.2). However, some departments may require upper second class honours degrees (2.1) (e.g. Department of International Politics) or relevant work experience.

For specific requirements, please refer to the Postgraduate Admissions Office website.

English Requirement

IELTS score of at least 6.0 - 7.5

If you require help or assistance with your English then our International English Centre will be pleased to offer assistance and guidance. The Centre offers an intensive full-time course available before you commence your degree and provides ongoing support throughout the duration of your studies.
Student Profiles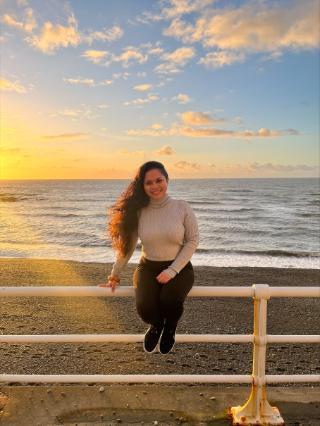 Nathalia Lawen
(BSc Economics and Climate Change)
What do you love about Aberystwyth and Aberystwyth University?
I grew up having the ocean as my "backyard", something about the ocean just calms my nerves. So, moving here I just felt right at home, my home away from home. The sunsets here are to die for!!
I love the selection of courses here at Aberystwyth, there is something for everyone. The staff at the university are incredibly supportive. As a student, I feel like my voice is heard as the university has surveys to get feedback for each module.
What have you enjoyed most about your course?
I love how lecturers integrate fun ways of interacting and learning in the modules. It makes learning twice as fun and memorable (it comes handy for the exams!)
How did you find adjusting to life in Aberystwyth?
It was challenging at first especially being an international student, but that is why you make friends! My Aber family became my support system. I love the idea that every student has a personal tutor, this helped me a lot especially when it came to things like opening a bank account in the UK and just support in general, be it academic or personal.
What advice would you give someone considering studying at Aberystwyth University?
In my very biased opinion, Aberystwyth is the gem of Wales! You have everything you need at walking distance plus you get a scenic view of the ocean and the sunsets are to die for. The university offers a wide range of courses to suit everyone, you're bound to stumble across your calling. The university does not only develop your academic side, but also your professional side as well as your creative side- you will get so many tips from the careers department on how to prepare for the world of work after your degree and the arts centre offers numerous short courses to develop any hidden talents you may have.
What is your favourite thing about the campus?
I love how open the campus is, there is so much green to see and the library offers a picturesque view of the town and sea.