Welcome Uganda
If you have any questions about applying to, studying at, or living in Aberystwyth, please contact the regional officer for your country:
Contact: Jack Coates
Email: jac136@aber.ac.uk
Phone: +44 (0) 1970 621892
Entry Requirements
Entry Requirements

Undergraduate

Uganda Advanced Certificate of Education (UACE) with 'B-E' grades overall. Applicants with lower scores may be considered for courses with integrated foundation years.

Or

A-Levels (104-128 UCAS points)
International Baccalaureate (28 - 32 points)
An international foundation programme

Postgraduate

Generally, the minimum entry requirement for most taught masters courses is the equivalent (see below) of a lower second class honours degree (2.2). However, some departments may require upper second class honours degrees (2.1) (e.g. Department of International Politics) or relevant work experience.

| | | |
| --- | --- | --- |
| Bachelor's 2.2 | Bachelor's 2.1 | Bachelor's 1st |
| cGPA: 2.70 | cGPA: 3.60 | cGPA: 4.40 |

For specific requirements, please refer to the Postgraduate Admissions Office website.

English Requirement

IELTS score of at least 6.0 - 7.5

Or

C in English from Ugandan Certificate of Education (UCE)

If you require help or assistance with your English then our International English Centre will be pleased to offer assistance and guidance. The Centre offers an intensive full-time course available before you commence your degree and provides ongoing support throughout the duration of your studies.
Student Profiles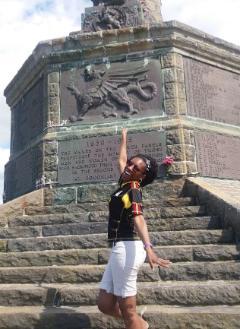 Eva Ainebyoona
(MA Information and Library Studies)
"The teaching at Aber was excellent, with helpful faculty and teaching staff that guided me during my academic journey, and amazing library staff that greatly helped when it came to research. There were lovely accommodation spaces that made me feel at home and comfortable as well as friendly people and beautiful countryside that is conducive to living and studying.
My degree has helped with my career by improving my research skills of which I support students with research and literacy skills at the campus where I work. I also gained knowledge that broadened my skill-set into supervisory and management level positions. The exposure to a wide social and professional network as I got a chance to meet and still share ideas with information professionals/Librarians from different parts of the world.
The advice I would give to other students coming from Uganda is that Aberystwyth University offers good quality teaching and learning experience, is one of the safest places to live and study, and you would be joining a global community of Aberystwyth Alumni!"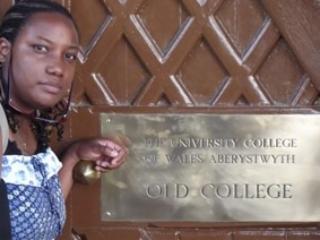 Matovu Sylvia
(MScEcon Information and Library Studies)
"My time in Aberystwyth University was like no other. The study environment was very organised and quite conducive for students. We were helped and yet also taught how to be independent and quite adventurous. I left the airport in Uganda as a very timid person, who then took a plane, a train, a cab and a bus to find her way to her first post-graduate class. But I came back through the same airport with the confidence of one who could learn a new skill, live independently, travel extensively, innovate, learn how to read a language with too many consonants (my language has words with mostly vowels), make friends and not be afraid of change.
Aber is a very green seaside student town with very friendly people. The crime rate is very low compared to most towns in the world, the transport system was very easy to figure out (with friendly bus drivers might I add). Students from the UK were always willing to help especially with navigating around the town (and country) or visiting places of interest. As a Christian, I could go for Praise and Worship, attend service or go for Catholic Mass on Sunday. There is also a mosque for the Muslim brothers and sisters. If you are in Uganda and looking out for a University outside our country, then Aber is for you. You will come back a changed person. Important to note is that many of our College Professors in Uganda are actually products of Aberystwyth University especially for the postgraduate courses.
I am now a Communication Specialist working with The AIDS Support Organisation (TASO) (U) Ltd. The oldest national non-governmental response to the fight against AIDS in Uganda, founded in 1987. I was very lucky to be granted a year off to pursue my Masters after which I came back to TASO and was promoted from Assistant to Officer and now Specialist looking at health information and communication. During my time in Aber, I was also able to do a short course in Social Psychology. I therefore combine Information Science, Communication and Social Psychology into my work.