Welcome India
If you have any questions about applying to, studying at or living in Aberystwyth, do not hesitate to contact us using the details below.
Contact: Annette Vincent
Phone: +91 9773 866 944
Email: anv26@aber.ac.uk
Enquiry Form
Entry Requirements
Entry Requirements
Foundation

International Foundation Certificate

30 week: Standard XII from a recognised Central or State Board with minimum 50% overall and in relevant subjects, or Standard XI from a recognised Central or State Board with minimum 70% overall and in relevant subjects.
15 Week: Standard XII from a recognised Central or State Board with minimum 60% overall and in relevant subjects.

English requirements vary from IELTS 4.5-5.5.

Contact tesol@aber.ac.uk

Undergraduate

Academic:

Standard XII Certificate from recognised central or state board:75 % in year XII Std. Some courses may have subject specific requirements in addition to the above


English Language:

IELTS Score of at least 6.0 - 6.5 depending on course requirements and level.

OR

70% in English at Year XII std level.

If you do not meet our requirements then we will consider you for our International Foundation Certificate

Postgraduate Masters

Academic:

The requirement for entry onto a Postgraduate course is successful completion of a Bachelor degree from a recognised institution. The average grades depend on the course chosen, with the minimum for some courses being 50-55% or GCPA 6.0 in a relevant Bachelors degree from a recognised institution.

Non-graduates with at least 2 years of relevant full-time work experience are welcome to apply. In this case your application will be assessed on an individual basis.

English Language: IELTS Score of at least 6.0 - 7.5 depending on course requirements and level.

OR

70-80% in English at Year XII std level. (if awarded by CBSE, CISCE, West Bengal, Karnataka, Maharashtra & Tamil Nadu boards)

For specific requirements, please refer to the Postgraduate Admissions website.

If you do not meet the requirements for entry onto a Masters Degree in Aberystwyth Business School then we can consider you for entry onto our Pre-Masters Programme.

English Requirements

If you require help or assistance with your English then our International English Centre will be pleased to offer assistance and guidance. The Centre offers an intensive full-time course available before you commence your degree and provides ongoing support throughout the duration of your studies
Please note each course may require specific entry grades from the qualifications highlighted above. Some courses may also require an additional portfolio or interview.
Scholarships
Name of Award
Value
When to Apply

International Accommodation Award

(Undergraduate and Postgraduate)


Free or discounted University Accommodation for the duration of your course.

See our Fees & Scholarships page for more information

(Postgraduate)

Grant for up to 3 years covering fees, maintenance with access to a conference fund

29th January OR 1st March

(Differs by department. See AberDoc for full details)

(Postgraduate)

Worth £10,000 for an applicant studying a Postgraduate Masters course starting in January at Aberystwyth University.

Please see the Study in Wales website for full details and complete the online Application Form. Applications close on 14 November 2021.

British Council Telangana Scholarship

Worth £5,000 for an applicant who was born and/or have studied int eh state of Telanagana.

To be considered for this award please contact anv26@aber.ac.uk
For further information on Scholarships and Bursaries please see our Fees & Scholarships page or contact the International Office on international@aber.ac.uk
Student Profiles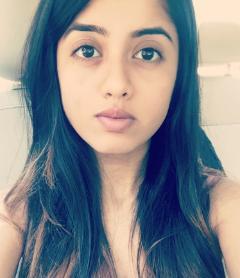 Avishaa Kulkarni
(BSc Psychology)

"Ab‌‌er has a very close knit community with very kind people. Aber being a student town, it was very easy to adjust here. I was easily accustomed to the student life here with tons of friends who became a second family. I was always treated like its own by Aber!"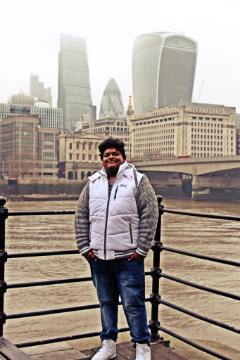 Sayantan Patra
(LLM International Law and Criminology of Armed Conflict)
"The best memory I can recall is the International Students meet up held in Aberystwyth. The student representatives of each country portrayed their culture, food, societal norms which was a delightful and enriching experience for us. I represented my country India, wore our ethnic dress Kurta and Pyajama, cooked Chicken Pakora and Gajar Halwa ( Carrot Halwa) which was very much enjoyed by the guests and participants of the event. My fellow batch mate performed Bharat Natyam which was very much appreciated by the audience, some students from Africa were colouring the faces of other students of their national flags."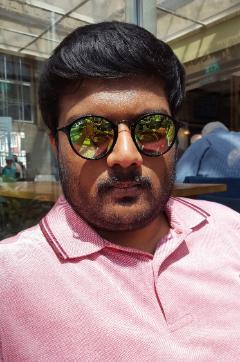 Vikram Kittagali Mahadevaiah
(MSc Livestock Science)
"Aberystwyth as a town is fabulous and the best part about it is the coastline, and the most friendly people out there, they are truly amazing and welcoming. Aberystwyth university has made me more confident in life as a student. It has taught me to work independently."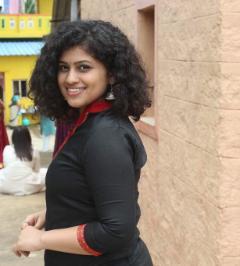 Nireeksha Nelamangala Rajeev
(BSc Tourism Management)
"Adjusting in Aber was quite easy as people are very warm and welcoming. I love the people, the beautiful scenery and the sea! I will miss the sea walks and bonfires."
Agents A-L
City

Company

Phone

Email

-

(+61)292690110

(+91)0203370247

(+91)9821324255

Ahmedabad


(+91)7940141919

(+91)7940243333

ahmedabad@edwiseinternational.com

(+91)9898737819

(+91)7940225555

(+91)07944118888

Krishna Consultants (Ellisbridge)

(+91)09722000002

Krishna Consultants (Navrangpura)

(+91)09924 114 400

(+91)07307700046

oeccmelbourne@gmail.com

(+91)07940391698

Amritsar

(+91)09888382898

(+91)1835031855

(+91)01835020240

(+91)07710490007

(+91)07307700046

oeccmelbourne@gmail.com

Angamaly

(+91)09072576649

Bangalore

(+91)8025070500

(+91)09319611331

(+91)08043503333

(+91)97445000000

(+91)8046498888

(+91)08044118888

9606015592

(+91)08041688282

Batala

(+91)1871500736

Bathinda

(+91)01645211888

Bengaluru

(+91)08023020888

(+91)07259716255

Bhilai

(+91)09893057777

Bhopal

(+91)07554273349

(+91)08109001424

Bokaro

(+91)099557500000

Calicut

(+91)04954023222

Chandigarh

(+91)1724993333

(+91)01724084530

(+91)01725002722

(+91)09855666123

(+91)1725051818

(+91)01724411888

(+91)06283044768

(+91)07307700046

oeccmelbourne@gmail.com

(+91)9999648282

Chennai

(+91)1724993333

(+91)09840064273

(+91)04442928200

(+91)9894394133

(+91)4449687777

(+91)04461738888

IDP 2

(+91)0444517 888

(+91)04445108282

Chandigarh

(+91)9855666123

Cochin

(+91)04842373347

Cochin

(+91)04844020104

Coimbatore

(+91)09500044868

(+91)04224960057

(+91)9585555565

(+91)04224411888

(+91)04224395353

(+91)07338898282

Cuttack

Gateway Abroad
(+91)9955750000

Dasuya

(+91)09041734254

Delhi

(+91)1144119999

(+91)01147005333

(+91)99557500000

delhi1@gatewayabroad.in

(+91)1147141414

9582446363

Krishna Consultants (Patel Nagar)

(+91)01145631400

Krishna Consultants (Rohini)

(+91)01142384045

(+91)01142028200

(+91)01145304530

(+91)7307700046

oeccmelbourne@gmail.com

Ghaziabad

(+91)01202691645

(+91)0124380003

Goa

(+91)09764007643

(+91)07447499763

Guntur

(+91)0863661888

Gurgaon

(+91)01244411888

Gurugram

AECC Global
(+91)1244886555
Gateway Abroad
(+91)998800423311

Hoshiarpur

(+91)01882502665

Hyderbad

AECC Global

(+91)4042529999

(+91)08096657878

(+91)04044663333

(+91)4066595959

IDP Hyderabad

(+91)04044118888

IDP Hyderabad 2

(+91)04044208888

Krishna Consultants (Dilsukhnagar)

(+91)04043463464

Krishna Consultants (Himayatnagar)

(+91)04066908888

(+91)04040157110

(+91)07307700046

Indore

(+91)07314066446

indore@edwiseinternational.com

(+91)09039988391

(+91)07314411888

Jabalpur

(+91)07614044767

Jaipur

(+91)01412741276

(+91)9166144321

(+91)01414411888

(+91)09414066044

(+91)08882912262

Jalandhar

(+91)1814035555

Global Opportunities

(+91)1815061100

(+91)01814411888

Jammu

(+91)09622212148

Kannur

(+91)09072576601

Kochi

(+91)9746492420

(+91)09072576697

(+91)04844211888

(+91)9310404716

Kolkata

(+91)03366122333

Gateway Abroad

(+91)03340572777
kolkata@gatewayabroad.in

(+91)03344118888

(+91)93104047414

Kollam

(+91)09072576695

Kottayam

(+91)09072576693

(+91)04812304888

Kozhikode

(+91)09072576645

Lucknow

(+91)08874799462

(+91)8707851368

(+91)05224411888

(+91)05224082020

Ludhiana

(+91)1614668110

(+91)

01615027000

info@geebeeworld.com

(+91)1615106060

(+91)01614211800
Agents M-Z
City

Company

Phone

Email

Madurai

(+91)07448809208

Mandovi

(+91)09319523131

Mangalore

(+91)08244411888

Mavelikkara

(+91)09072576691

Moga

(+91)01636502900

(+91)016366505888

Mohali

(+91)1725065071

(+91)01724011888

Mumbai

Edwise Int (Churchgate)

(+91)02222838860

Edwise Int (Malad)

(+91)02242176444

Edwise Int (Marine Lines)

(+91)02240813456

Edwise Int (Thane)

(+91)02243455555

Edwise Int (Vashi)

(+91)02220870711

Edwise Int (Santacruz)

(+91)02242764444

Edwise Int (Head Office)

(+91)02240813333
(+91)02222003338

Gateway Abroad
(+91) 9892 103 999
mumbai@gatewayabroad.in

GEEBEE World (Andheri)

(+91)02240224480

GEEBEE World (Borivali)

(+91)02228997333

GEEBEE World (Churchgate)

(+91)02243222333

GEEBEE World (Thane)

(+91)02225388844

Global Opportunities (ALL)

(+91)2249682007

(+91)02244118888

(+91)02266497000

(+91)02268600600

(+91)52931571

(+91)02249700446

Mysuru

(+91)9538417777

Nagpur

(+91)07126647355

(+91)07126684222

(+91)07122222061

Namakkal

(+91)04286297999

Nasik

(+91)9890017862

Nashik

(+91)02532342556

Navsari

(+91)09879488527

Noida

(+91)8302278879

(+91)01204228266

(+91)01204077800

(+91)09643664111

Pala

(+91)09072576698

Patiala

(+91)09815151166

(+91)1755051639

(+91)01755131888

(+91)07999110003

Pondicherry

(+91)09944658644

Pune

(+91)02049022222

(+91)02041045333

(+91)9004309269

(+91)2066664999

(+91)02044118888

(+91)52931571

Krishna Consultants (Kothrud)

(+91)09168611803

Krishna Consultants (Viman Nagar)

(+91)02066 890 778

Pune

(+91)02048611079

(+91)8983661133

Raipur

(+91)0774026008

Rajkot

(+91)8000792579

(+91)7878357755

Rajpura

(+91)9815087099

Rourkela

(+91)9238466990

Sadar

(+91)07122529127

Surat

AECC Global

-

(+91)02614113333

(+91)9879488527

(+91)02614411888

(+91)08460466100

Tanda

(+91)01882622770

Thane

(+91)02241144333

Thiruvananthapruam

(+91)09072576627

Thodupuzha

(+91)09072576657

Thrissur

(+91)09072576680

Trivandrum

(+91)04714061601

Graduate Overseas Education Advisors

(+91)09387604400

(+91)04714411888

Udaipur

(+91)9829533889

Vadodara

(+91)2656135500

(+91)02652323828

+91)9824280736

(+91)02656135200

Vijayawada

(+91)8666621199

(+91)08662454888

Visakhapatnam

(+91)89166221199

(+91)08912551231

(+91)8916637833

(+91)08916611888

Vizag

(+91)08912730601