Welcome Zimbabwe
If you have any questions about applying to, studying at, or living in Aberystwyth, please contact the regional officer for your country:
Contact: Jack Coates
Email: jac136@aber.ac.uk
Phone: +44 (0) 1970 621892
Entry Requirements
Entry Requirements
Undergraduate

General Certificate of Education at Advanced Level with grades ABB-CCC (depending on the subject to be studied) or International Baccalaureate (28 - 32 points)

Applicants with lower scores may be considered for courses with integrated foundation years.

Postgraduate

Requires a Bachelor (Honours) degree from the University of Zimbabwe, a Bachelor degree from the National University of Science and Technology or a Bachelor of Technology from Harare Polytechnic.

For specific requirements, please refer to the Postgraduate Admissions Office website.

English Requirement

IELTS score of at least 6.0 - 7.5

C in English from Zimbabwe General Certificate of Education at Ordinary Level.

If you require help or assistance with your English then our International English Centre will be pleased to offer assistance and guidance. The Centre offers an intensive full-time course available before you commence your degree and provides ongoing support throughout the duration of your studies.
Please note each course will require specific entry grades from the qualifications highlighted above. Some courses may also require an additional portfolio or interview.
Student Profiles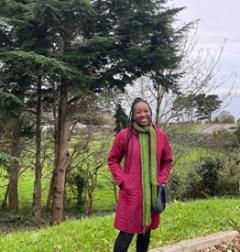 Tanaka Chikomo
What do you love about Aberystwyth and Aberystwyth University?
I love the views in Aberystwyth like the Pen Dinas and being able to exercise while enjoying the sight of picturesque houses/villas and breathtaking landmarks like the Castle Ruins. The University is perfect for students because there are different spots on campus for relaxing, chatting with a friend, or just sitting in silence after a long study session. It has also been great in ensuring students are safe during the current COVID crisis with sanitizing equipment readily available at all corners of facilities like Hugh Owen Library.
What have you enjoyed most about your course?
My course is constantly teaching me to think deeper about basic issues, and not accept things at face value. Although it can be challenging, I love how my course is spread across two different departments, meaning I can learn different approaches to simple techniques like referencing from different lectures.
How did you find adjusting to life in Aberystwyth?
I don't think I have fully adjusted to life at university because it's a constant journey of learning and self-discovery. Initially, I did find it hard to settle in a new environment far from the typical city life and my family and friends back home. However, the people are incredibly helpful and do their best to assist in times of need and that has made my student experience easier.
What advice would you give someone considering studying at Aberystwyth University?
Don't worry too much about purchasing a handful of textbooks prior to the start of your course because the library has tons of options (with online access too!) Make sure you have a brief idea of how much you might spend each month. It can be hard to make friends but don't be afraid to initiate a conversation on social media prior to attending the university. Almost everyone is nervous to meet new people too and that's the beauty of being a student- Undergrad or Postgrad.
Have you joined any clubs or societies here at Aber?
I have joined the Aberystwyth Law Society and Catholic Society. I love that both societies host amazing socials open to everyone, like the Murder Mystery for Law where people dress up according to a particular theme and get to know each other through teamwork and solving a mystery.
Alumni Profiles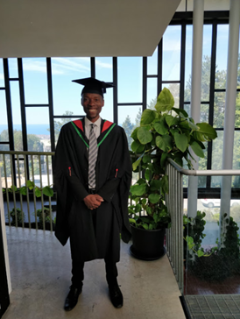 Tino Garapasi
(BSc Computer Science)
"Nature was definitely my favourite thing about living in Aberystwyth. Taking walks by the sea coast, hiking in the mountains, relaxing and even studying at the beach, watching the starlings by the pier. Nothing can come close. At university, I was surrounded by many extremely brilliant students and this alone rubbed off and motivated me to be my best. There are many clubs you can be part of depending on your interests. An example is the Afro-Caribbean society where many Africans and Caribbeans meet for social activities. There are also many nationalities from around the world. So just relax and expect to be received well and treated with respect and dignity. Come expecting to have a fun time and I can assure you a great time. I now work as a web consultant in Hertfordshire, UK"