Dr Margaret Ames
BA (Llundain) MA (Cymru) Graduate Diploma (Surrey) PhD (Aberystwyth)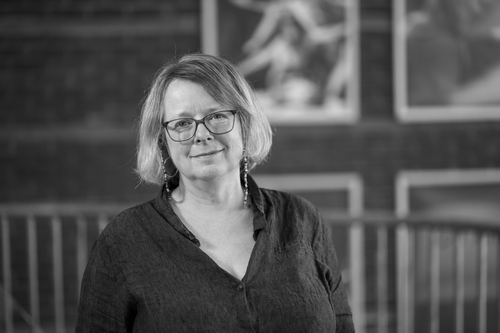 Please note: The Welsh version of this profile contains additional or more detailed information.
Profile
Artistic Director of Dawns Dyfed community dance project for the west of Wales 1987 - 2007. Performer with Brith Gof 1988 - 2000
Teaching
Module Coordinator
Coordinator
Tutor
Lecturer
Blackboard Dept Admin
Attendance Dept Admin
Research
Margaret's area of research is Performance and Disability with a particular interest in work made by and with people with learning disabilities. Aberystwyth based dance-theatre company Cyrff Ystwyth form the focus of this enquiry and they produce new work every year at Aberystwyth University.
Devising Theatre, particularly in a Welsh cultural context. Disability and performance. Director/producer for Cyrff Ystwyth Dance Company, who participate in long term practice based research project.
Co-Investigator with Central School of Speech and Drama University of London on AHRC funded project. 'Challenging 'Liquid' Place'.
Member of International Federation of Theatre Research Working Group: Performance and Disability.
Presented at inaugural meeting of Performance and Disability Working Group at the Hemispheric Institute Encuentro 2014.
Guest Contributor to NO LIMITS Berlin, festival symposium 2013 and 2015 with members of Cyrff Ystwyth
Research Groups
Publications
Ames, M
2021, '
Learning disability dance: An example of resilience with Speckled Egg Dance Company
',
Research in Drama Education: The Journal of Applied Theatre and Performance
, vol. 26, no. 1, pp. 105-120.
https://doi.org/10.1080/13569783.2020.1851180
Ames, M
& Jones, A,
'John'
, 2019, Performance.
Ames, M
, Calvert, D, Glorstad, V, Maguire-Rosier, K, McCaffrey, T & Schmidt, Y 2019, '
Responding to Per.Art's Dis_Sylphide: Six Voices from IFTR's Performance and Disability Working Group
',
Theatre Research International
, vol. 44, no. 1, 8, pp. 82-101.
https://doi.org/10.1017/S0307883318000846
Ames, MP
& James, A,
Canol y Byd
, 2018, Performance.
More publications on the Research Portal