Dr Margaret Ames
BA (Llundain) MA (Cymru) Graduate Diploma (Surrey) PhD (Aberystwyth)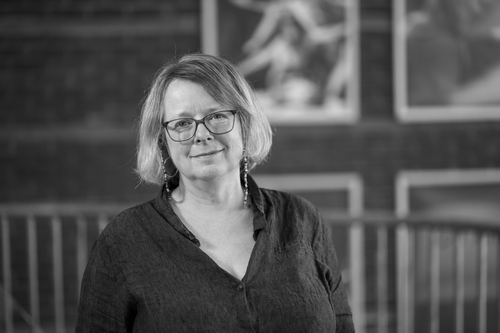 Proffil
Cyfarwyddwr Artistig Prosiect Dawns Cymunedol Ceredigion, Sir Gaerfyrddin a Sir Benfro, Dawns Dyfed 1987 - 2007 Mae ei chefndir ym maes dawns ac fe berfformiodd gyda Chwmni Theatr Brith Gof 1988 - 2000
Gwybodaeth Ychwanegol
Cymrawd yn Anabledd/Diwylliant 2012 Symposiwm Blynyddol. Prifysgol Michigan.
Dysgu
Module Coordinator
Coordinator
Tutor
Lecturer
Blackboard Dept Admin
Attendance Dept Admin
Ymchwil
Yn gyfrifol am les garfan myfyrwyr o fewn yr Adran a rhan o Dysgu ac Addysgu Pwyllgor Amgylchiadau Arbennig. Cydlynydd Anableddau ar y cyd; Cynrychiolydd Academaidd ar y Pwyllgor Iechyd a Diogelwch.
Grwpiau Ymchwil
Cyhoeddiadau
Ames, M
2021, '
Learning disability dance: An example of resilience with Speckled Egg Dance Company
',
Research in Drama Education: The Journal of Applied Theatre and Performance
, vol. 26, no. 1, pp. 105-120.
https://doi.org/10.1080/13569783.2020.1851180
Ames, M
& Jones, A,
'John'
, 2019, Performance.
Ames, M
, Calvert, D, Glorstad, V, Maguire-Rosier, K, McCaffrey, T & Schmidt, Y 2019, '
Responding to Per.Art's Dis_Sylphide: Six Voices from IFTR's Performance and Disability Working Group
',
Theatre Research International
, vol. 44, no. 1, 8, pp. 82-101.
https://doi.org/10.1017/S0307883318000846
Ames, MP
& James, A,
Canol y Byd
, 2018, Performance.
Mwy o gyhoeddiadau ar y Porth Ymchwil