PhD Supervision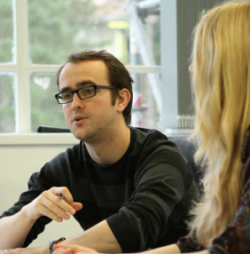 The Department of Geography and Earth Sciences offers the highest standard of PhD supervision. Supervisors provide postgraduates with organisational and academic advice and direct the postgraduate's training programme and research project, following guidelines set out by the University. They are the postgraduate's first point of contact with the Department if any difficulties arise during the postgraduate programme.
Each student is assigned a minimum of two supervisors based in Aberystwyth University, who regularly meet with their students. The exceptionally close working relationship encouraged by this approach is an important factor in explaining the Department's outstanding completion rate.
Great care is taken in ensuring that each PhD student has the expert supervision required to complete the project within the normal period of registration (3 to 4 years).
A student's research is managed by a Primary and Secondary Supervisor (or, in some circumstances, Joint Supervisors), the DGES Postgraduate Committee and the Institute Postgraduate Board.
The choice of supervisors will be made upon receipt of the research application. The choice will be determined by:
1. The requirements set out by a postgraduate's funding body,
2. The expertise of the member(s) of staff,
3. The research expertise of the postgraduate applicant.
In addition, it should be noted that DGES does not normally permit a member of staff to supervise more than 6 PhD students simultaneously in order to ensure that each research student can receive due attention from his/her supervisors. We also expect the primary supervisor to have had experience of supervising a student to completion.
In certain situations (such as CASE Fellowships), an external supervisor may be appointed in collaboration with an industrial organisation or institution within the public service.