The Geomicrobiology of Glacial Systems
CfG staff: , Tris Irvine-Fynn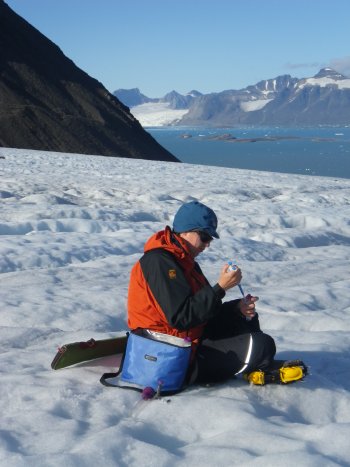 Overview:
Our particular focus is the microbial communities associated with glaciers and ice sheets, which we now appreciate, comprise a major freshwater biome which harbours an equivalent number of cells to all other freshwater habitats. This research maps the biogeography of ice-microbe interactions across a broad range of spatial and temporal scales, from microbial, ice-mass through to global scales, and from metabolic reactions through to modelling glacial biogeochemistry during the last glacial period. The discovery of microbial feedbacks in glacial melting and distinctive microbial biodiversity associated with glaciers help highlight the relevance of current research on ice-microbe interactions on societally-relevant and evolutionary timescales. Methodologies blend field-based survey and in situ experimentation on Polar and Alpine glaciers with cutting-edge meta- multiomics methods such as metagenomics, metatranscriptomics and metabolomics, coupled with high throughput DNA sequencing enabled genome and marker gene studies.
Active research projects in this area are currently supported by NERC, The Royal Society, SynTax, The Systematics Association and the Welsh Government.
Key Publications:

Edwards, A.; Pachebat, J.A.; Swain, M., Hegarty, M., Hodson, A.J., Irvine-Fynn, T.D.L, Rassner, S.M.E., & B. Sattler A metagenomic snapshot of taxonomic and functional diversity in an Alpine glacier cryoconite ecosystem. Environmental Research Letters, 8:035003 doi:10.1088/1748-9326/8/3/035003 Open Access
Hell, K.; Edwards, A.; Zarsky, J.; Podmirseg, S.M.; Girdwood, S; Pachebat, J.A.; Insam, H.; & B. Sattler. (2013). The dynamic bacterial communities of a melting High Arctic glacier snowpack. ISME Journal. 7: 1814–1826
Edwards, A.; Rassner, S.M.; Anesio, A.M.; Worgan, H.J.; Irvine-Fynn, T.; Williams, H.; Sattler, B.; & G.W. Griffith. (2013) Contrasts between the cryoconite and ice-marginal bacterial communities of Svalbard glaciers. Polar Research. 32: 19468 Open Access
Edwards, A.; Douglas, B.; Anesio, A.M.; Rassner, S.M.; Irvine-Fynn, T., Sattler, B. & Griffith, G.W. (2012) A distinctive fungal community inhabiting cryoconite holes on glaciers in Svalbard. Fungal Ecology6:168-176
Edwards, A.; Rassner, S.M., Irvine-Fynn, T.; Williams, H. & G.W. Griffith (2012) Darogan cyfraniadau rhewlifoedd olaf Eryri i gylchredoedd carbon Cyfnod y Dryas Diweddaraf ar sail modelau amrwd o ecosystemau rhewlifol y cyfnod hwyr-rewlifol. [in Welsh=Reconstructing the last supraglacial ecosystems of Wales] Gwerddon 12:53-78
Irvine-Fynn, T.; Edwards, A.; Hodson, A.J.; Rassner, S.M., Langford, H.; Newton, S.; Telling, J., Anesio A.M. (2012). Microbial cell budgets of an Arctic glacier surface quantified using flow cytometry. Environmental Microbiology 14:2998-3012.