Dr Hywel Griffiths
BSc MSc PhD (Cymru)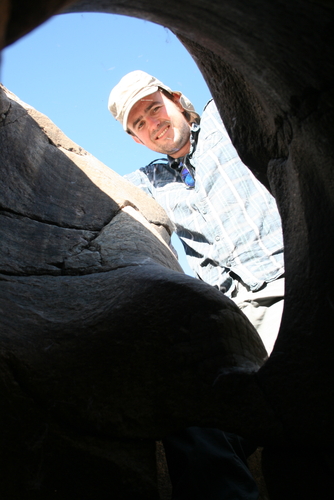 Profile
Biography
2009-present: Lecturer in Physical Geography through the medium of Welsh, Aberystwyth University
2008-2009: Welsh medium teaching fellow, Aberystwyth University
2006-2009: Phd, Aberystwyth University
2005: MSc River Basin Dynamics and Management, University of Wales, Aberystwyth
2004: BSc Physical Geography and Mathematics, University of Wales, Aberystwyth
Teaching
Module Coordinator
Coordinator
Lecturer
Tutor
Grader
Research
Group Affiliation
Research Interests
Rates, pattens and controls of fluvial processes.
The impact of anthropogenic activities on fluvial processes.
The impact of Holocene environmental change on fluvial systems.
The long term development of the fluvial landscape of Wales.
Theoretical geomorphology, especially complexity and self organised criticality.
Using historical documentary sources to infer geomorphological and climatic change.
Hydropolitics and cultural geographies of rivers.
Current projects
PI: Can we harness knowledge of extreme geomorphological events to promote sustainable tourism? (funded by the Joy Welch Trust)
PI: Scaling bedrock erosional processes across space and time: from pothole dynamics to gorge development (BSG funded)
PI: Remembering a hydrographic society: flooding, drought, adaptation and culture in the Welsh colony of Patagonia, Argentina (funded by the British Academy)
Co-I: SusNet Wales (Sustainability Network Wales): A collaborative multidisciplinary platform for inspiration and transformation of the next generation (RCUK funded)
MPhil Supervision
Marc Huband (2013)
Janet Richardson (2013)
Research Groups
Publications
Busfield, M
, Griffiths, H
, Jones, C
, Jones, R
& Jones, RD
2020,
Daearyddiaeth: Astudio a dehongli'r byd a'i bobl
. Coleg Cymraeg Cenedlaethol.
Kamintzis, JE
, Irvine-Fynn, T
, Holt, T
, Jones, JPP
, Tooth, S
, Griffiths, H
& Hubbard, B
2019, '
Knickpoint evolution in a supraglacial stream
',
Geografiska Annaler: Series A, Physical Geography
, vol. 101, no. 2, pp. 118-135.
https://doi.org/10.1080/04353676.2018.1549945
Rose, M
, Cooper, D
& Griffiths, H
2018, '
Acknowledging the work of poetry: a collaborative commentary on Tim Cresswell's Fence
',
Cultural Geographies
, vol. 25, no. 1, pp. 257-262.
https://doi.org/10.1177/1474474017732982
More publications on the Research Portal