Key advantages
All Masters modules are taught by full time academic members of staff and the quality of their teaching has been judged by the Higher Education Funding Council of the United Kingdom to be 'Excellent' and as such, the Department's thriving Graduate School provides an unrivalled learning experience and an immensely rewarding place in which to undertake taught postgraduate study.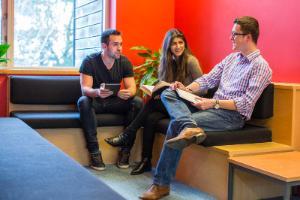 At masters level teaching generally takes place in seminar groups allowing for in-depth discussion, debate and analysis and a close working relationship between postgraduates and staff. Indeed, the close knit Interpol community is a key feature of the department and a real advantage to the postgraduate community.‌‌
As a vital part of the Interpol community, MA students are integrated into the unique world-leading research culture. The Department regularly invites leading academic, policy-making and political figures to Aberystwyth to deliver prestigious events, such as the annual EH Carr, Kenneth Waltz and David Davies Memorial lectures, and leading scholars join the Department's own staff and graduate students in the weekly International Politics Research Seminar (IPRS).
There are also a number of specialised Research Groups, Centres and Institutes based within the Department, who also organise their own programmes of seminars, vivsting speakers and academic conferences. as a Masters student you can contribute to these research clusters and participate in a range of events, seminars and roundtables, as well as attend the IPRS.