Awards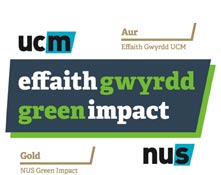 April 2016
Information Services have won a Gold Award in the Green Impact programme.
Information Services has participated in the Green Impact programme since the University started participating in 2013. It won a silver award in 2014 and a gold award in 2015 and was awarded a special award for the introduction of an organic veg box scheme in 2014. Information Services is one of the largest departments at the University actively involved in the Green Impact programme. This aims to reduce the carbon footprint of the University and other environmental impacts by encouraging, rewarding and celebrating environmental best practices.
June 2015
A partnership featuring Aberystwyth University library services is celebrating victory after winning the Outstanding Library Team category at the recent Times Higher Education Leadership and Management Awards 2015.
The Welsh Higher Education Libraries Forum (WHELF), which brings together the National Library of Wales, all 10 Welsh higher education institutions and Welsh NHS Libraries, has developed a groundbreaking initiative to deliver a library management system for the whole country.
The project is the first of its kind in the UK and was supported by funding from MALD (Museums Archives and Libraries Wales Division) and Jisc (Joint Information Systems Committee).
Judges at the Awards described the project as "ambitious" and were impressed by its potential to improve discovery and access to resources, while reducing procurement and infrastructure costs.
The new library management system will be rolled out across the country in phases with Aberystwyth University going live on 20th July 2015 and the system will be operational across all WHELF institutions and the Welsh NHS Libraries (via Cardiff University) by the end of 2016.
Revalidated April 2017

Information Services has achieved the Customer Service Excellence standard, a government standard for driving customer focused change within organisations. The standard assesses customer insight, the customer focused culture, that the supply of information meets customer requirements, how well services meet with customer needs and the timeliness and quality of the service.
Following the formal assessment in April 2015, Information Services recorded compliance against all 57 elements in the standard, which is an excellent achievement considering that this was IS' first attempt at accreditation. Many strengths were identified in the report. The assessor noted:
"There was an overwhelming amount of praise for the staff within Information Services, from both customers and partners. This is supported by the feedback from mystery shopping exercises, the user survey, sample week data and quarterly feedback summaries of comments and compliments. "They can't do enough for you" feedback from student "They are willing to advise and show you again and again, until you feel comfortable about it" feedback from student (2.2.2)"
Customer Service Excellence demonstrates IS' commitment to continually improving its services to all its customers. In 2017 Information Services was awarded 7 Compliance Plus - these are areas where we show innovation, or where we are considered sector leaders.