Graduates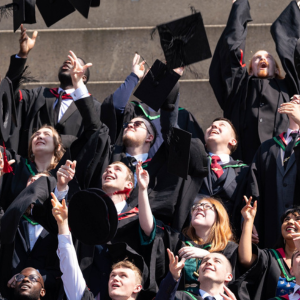 Being able to use our services doesn't stop when you graduate from Aber. Whenever you graduated, we are still here to help with any careers-related support needs you may have, at any time.
Services available to Aber graduates from any graduation year
Additional services available to recent Aber graduates
Recent Aber graduates
As well as the services available to all graduates from any course or year, we also offer this additional support to recent graduates of BA, BSc, Integrated Masters (or equivalent) courses, who are either working but not in graduate-level employment, or who are currently unemployed:
1. ABERforward
ABERforward provides graduate entry-level paid work experience to eligible students and graduates who feel they don't yet have the skills or work-readiness to successfully move into a graduate career; this may be due to, for example, limited work experience to date, feeling unsure about career interests, or low confidence.
Placements are in University departments and can be available throughout the academic year, offering up to 146 hours of full-time or part-time work experience. Plus, a 4-week full-time placement scheme is run in the Spring for graduates only, ideal if you have not yet secured graduate level employment since your studies ended and would like to boost your CV as part of a group programme with other graduates, and especially if you are no longer living in or near Aber.
Please click here to learn more about ABERforward.
2. Graduate Advisers
Our Graduate Advisers work specifically with 2023 graduates to provide careers support, information and guidance designed to help you to move forward confidently into graduate employment. To find out how this dedicated support could benefit you, please email gradsupport@aber.ac.uk.
Aber graduates from any graduation year
As an Aber graduate, you'll continue to be able to use the services that were available to you when you were a student, in person or online.
These services include access to our online portal, ABERcareers, where you will still be able to send us queries, search for placements, graduate schemes and other vacancies, explore careers workshops and employer events, and book an appointment with one of our Careers Consultants.
However, to be able to make full use of these services going forward, you will need to update your student profile on ABERcareers to a graduate profile. Click here to find out how to do this.
You can of course still contact us direct by email, careers@aber.ac.uk, or by phone, 01970 622378, or, if you still live in or near Aber, call in to see us on campus – our office is on the ground floor of the Student Welcome Centre.
And whether you need to access our services after graduation or not, please do stay in touch, or follow us and share your updates with us on LinkedIn – we love to hear how our alumni are getting on.