Dr Kim Knowles
BA (Hons) Astudiaethau Ffilm a'r Cyfryngau (Prifysgol Stirling) MSc Astudiaethau Ffilm Ewropeaidd (Prifysgol Edinburgh) PhD Astudiaethau Ffilm (Prifysgol Edinburgh)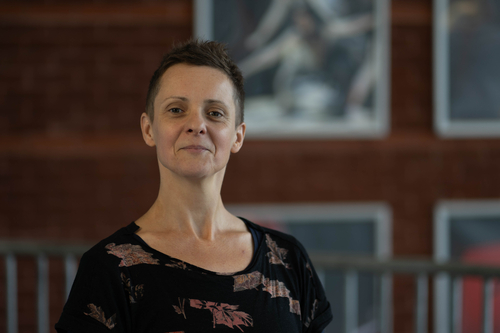 Profile
I received my PhD from the University of Edinburgh in 2007 and taught on the Film Studies programme there before becoming Postdoctoral Research Fellow on the AHRC funded project 'Poetry Beyond Text: Vision, Text and Cognition' at the University of Kent. I joined the Department at Aberystwyth in 2011. Since 2008, I have also been Experimental Film Programmer for the Edinburgh International Film Festival and I'm regularly invited to film festivals around the world.
Additional Information
Series editor: Experimental Film and Artists' Moving Image (Palgrave Macmillan): https://www.palgrave.com/gp/series/15817
Editor: Millennium Film Journal: https://millenniumfilmjournal.com/
External Examiner MA in Film Curation, Birkbeck University of London (2015 - 2019)
External Examiner MA in Film and Television Studies, University of Bristol (2016 - 2020)
Co-Investigator AHRC Research Network 'Film and the Other Arts: Intermediality, Medium Specificity, Creativity' (2015 - 2017): http://www.filmandarts-network.hss.ed.ac.uk/
International Partner for 'Reset the Apparatus! Retrograde Technicity in Artistic, Photographic and Cinematic Practices', University of Applied Arts Vienna. Funded by the Austrian Science Fund (2016 - 2019): http://www.resettheapparatus.net/
Experimental Film Programmer for the 'Black Box' strand of the Edinburgh International Film Festival (2008 - present)
Teaching
Module Coordinator
Lecturer
Tutor
Coordinator
Grader
Research
My research focuses on historical and contemporary forms of experimental filmmaking, and I have published widely on the French avant-garde, contemporary experimental film aesthetics, film and obsolescence and cinematic intermediality. My recent book Experimental Film and Photochemical Practices assesses the contemporary status of analogue film (primarily 16mm) and argues for the continued relevance of material engagement for opening up alternative ways of seeing and sensing the world. In my current research, I explore the relationship between ecology, environmental politics and the aesthetics of experimental cinema.
I welcome PhD enquiries related to any aspect of alternative film culture.
Responsibilities
Director of Research
Scheme Coordinator for MA in Documentary Filmmaking: Landscape and Ecology
Office Hours (Student Contact Times)
Publications