How to apply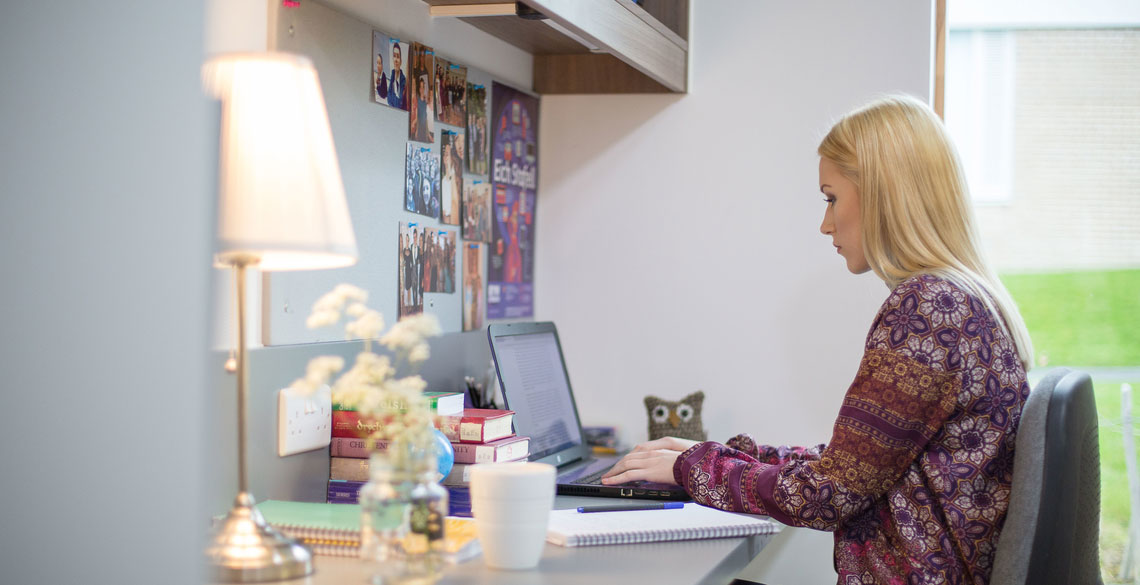 Aberystwyth University has around 3,500 bedrooms available in our residences that are either owned or managed by the University.
When can I apply for accommodation?
Dates when applications open can be found on our New Students webpage, or if you are already a student, our Current Students webpage.
When you complete the application form you will be asked to self-select your room. Therefore, before you apply for accommodation why not take a look at the range of options we have available on our Accommodation Options webpage. We offer a variety of residences; including standard rooms with shared bathrooms, en-suite rooms and self-contained studios.
How do I apply for accommodation?
Step 1 - Accommodation Portal
Login to the Accommodation Portal .
The Accommodation Portal is an online service to apply and secure accommodation at Aberystwyth University.
Login as follows:
Step 2 - Select your Room
Select the relevant application period e.g 'Book Accommodation for the 2023/24 Academic Year'.
Select a hall and contract length.
You'll have the option to select your room and whether you would like to be in a same gender or mixed gender flat.
Step 3 - Application Process
Once you have an Unconditional Firm (UF) offer of study, you can proceed with your application.
Personal Details
Please check that your details are correct.
Once your place to study at Aberystwyth University has been confirmed, details on how to activate your IT account will be sent to you by email from Information Services from July onwards.
Once you have activated your IT account, you will need to log in via the ABER Student Login button. All correspondence will be sent to this email address, therefore it is important that you check your emails on a regular basis.
Accessibility requirements
If you have specific access requirements, or if you require assistance to evacuate the building in an emergency, please let us know.
You will be required to contact Accessibility Services to provide appropriate evidence in support of your application.
You may be moved to a more appropriate room if it is recommended in your accessibility assessment.
Booking details
Please check that your booking details are correct and select your preferred payment schedule, if required.
Occupation Contract
The Accommodation Occupation Contract is a legal contract between you and the University which lays out your obligations and the University's obligations. Make sure you read and understand the terms and conditions.
Acceptance Fee
Please make sure you have a credit or debit card ready to pay the acceptance fee which is equivalent to 7 nights' rent.
Aber Card
If you are a New Student, make sure you apply for your Aber Card online so that it is ready for you when you arrive.
If you are returning to University and have lost your Aber Card, it is your responsibility to report it as lost or stolen to Information Services is@aber.ac.uk or call 01970 622400.
Aber Cards can be replaced at the Hugh Owen Library.
Connect with your Flatmates
If you would like to get in contact with your new flatmates, you will have the opportunity to share your social media details so that you can make connections before you arrive.
Your details will only be viewed and shared with your flatmates. You don't have to share your details if you don't want to, and you can amend or remove them at any time.
Payment Details
You will be taken to our payment provider to set up the payment schedule for your recurring payments. Please make sure you have a valid credit or debit card.
Booking Overview
Please make sure that your booking confirmation is correct. A confirmation email will automatically be sent to you.
You can log in to the portal at any time to view your booking.
Induction Programme
Before you arrive, you will need to complete the Induction Programme which will provide you with useful information on living in University accommodation.
You will be contacted by email when the Induction Programme is available for you to complete.
Cancelling your booking
You can cancel your booking at any time prior to moving in by logging back in to the portal.
Your acceptance fee will be refunded as long as you cancel before the deadline given on the Booking Overview page.
What happens next?
We appreciate that for many of you this may be the first time that you have lived away from home, so to help you we have put together a handy checklist, along with useful information on when you can move in and most importantly where you need to go to collect your key from on our Moving in webpage.